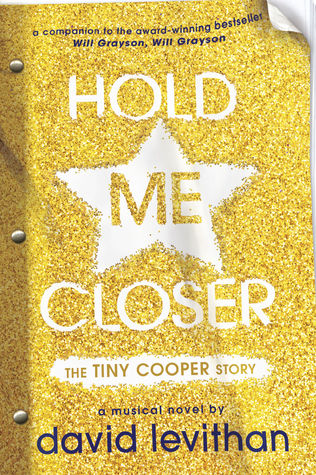 Hold Me Closer: The Tiny Cooper Story,
by
David Levithan
Publication:
March 17, 2015, by Dutton Juvenile
Genre:
Young Adult Fiction, Contemporary, Romance, LBGTQ
Pages:
200
Format:
Hardcover
Source:
Publisher
Rating:
It's Tiny Cooper's turn in the spotlight in this companion novel to New York Times bestseller Will Grayson, Will Grayson.

Jazz hands at the ready! Tiny Cooper ("the world's largest person who is also really, really gay") stole readers' hearts when he was introduced to the world in the New York Times bestselling book Will Grayson, Will Grayson, co-authored by John Green and David Levithan. Now Tiny finally gets to tell his story—from his fabulous birth and childhood to his quest for true love and his infamous parade of ex-boyfriends—the way he always intended: as a musical! Filled with honesty, humor, and "big, lively, belty" musical numbers, the novel is told through the full script of the musical first introduced in Will Grayson, Will Grayson.
If someone told me a year ago that David Levithan would be writing about Tiny Cooper in a play-musical format, I would've laughed and thought that they were joking.
It's not that his character isn't fit for the role and for a musical, it's just
different and absurd.
Overall, this wasn't my kind of book and I wish we had more of a "memoir" kind of base here so there would be more detail coming from his side of the story and all of the guys that he dated.
If you want original songs, two acts, to see the ghost of Oscar Wilde, and to meet each and every one of Tiny's exes, then
this book is for you.
A big issue that Levithan focused on throughout the whole book was Tiny being proud of who he was and that being gay is normal today. And the best thing is, this wasn't one of those stories where the parents of the kid don't allow the gayness to happen. Honestly, I think,
what can you do?
This was a fantastic example of diversity and I believe that it absolutely fits the LGBT community of 2015. High-five, Mr. Levithan! You've impressed us all with the way you took Tiny's matter and struggles and put them into a hilarious novel.
"That's the thing about life and love—every time you take another look at them, there's something else that can be revised. For now, let me just say this: My name is Tiny Cooper, and it's time to raise the curtain on my bombastic, baffling, and hopefully stupendous story."
The plot really couldn't be simpler, but I understand that this novel was a companion to
Will Grayson, Will Grayson,
also with John Green. That was one of the best books ever, and though I read it a long time ago, I'll always remember how much
I loved Tiny's character.
Who thought that in 2011 that there'd be a sequel four years later? *laughs* And really, this wasn't a sequel where
stuff happened in the first book that you'll need to know before reading this.
Okay, so I don't recommend reading this before the first book, but I find that it's more about Tiny's life and how many people have affected it.
Another thing that I love about Levithan's novels are that they're really short, and get straight to the point and message quickly. And that's why he's one of my favourite authors, as his books are always fluffy and easy to read, and I'm always able to pick them up at any time. They're like remedies to books that are trying to put you in a reading slump. But enough of the useless compliments at the moment—this was a very quick read. I think I finished it in an hour, since it's 200 pages with lots of spacing and crazy stuff. Get ready for lots of songs, belting, yelling and roller coaster rides of fun, because this surely was a read that got me laughing and smiling from head to toe.
To be honest, I did expect it to be better than it was. I usually love every single one of Levithan's books, but this was a 3 star for me. Why? Well it certainly isn't my type of read and I feel that it didn't signify the true meaning of a sequel well enough. This is something that could've been added onto Wattpad as some fanfiction and then people would read it. Stating this as a companion? Eh. We already knew the ending of the first book, and it's not like something else happened here. It was simply just filler and we got to find more about Tiny, which I don't mind.
"Love is the most common miracle. Love is always a miracle, everywhere, every time. But for us, it's a little different. I don't want to say it's more miraculous—it is, though. Our miracle is different because some people say it's impossible. But let me tell you—it's possible. Very possible."
Can I even say that there was a plot in this situation? Does this musical even have a plot? *laughs* As I said, it's not for me, so I kind of lost interest of what was happening and felt that it was kind of boring since half of it was actually song lyrics. And since Tiny is and always has been a confident guy, there was
no development from him being some tiny squirt who's shy into a big belting guy.
It was all smooth like pavement. The meaning of this all was actually wonderful and I'm proud to admit that I'm sticking by it and I'm nodding my head continuously, praising the work and who Tiny became.
I guess this book gave us a better vision of who Tiny is. Since he was a side character in the first book, we didn't get much information of him, and he was simply
there.
But here, the spotlight was absolutely on him and we got a description of him, and what he's been doing since the events of the last books and memories of his horrific dates that he's been on. *chuckles*
Last thing—I'm glad that we got to see Phil Wrayson. *laughs* And Will Grayson. If you don't understand what I'm saying, I'm seriously asking you to go and read the first book as you'll then get it and be proud that I said this inside joke out loud. And now I feel that I look like a fool. Oh, well.
I guess the only aspect and thing that stuck with me after reading this 'play' is Tiny's character and the theme of diversity and praising the LGBT community, which I'm totally up for. Other than that, the book probably would've been a catastrophic event for me, but we all know that David Levithan would've never let that happen. Hey, after this, I feel that I'm going to hold my copy of the first book closer to my heart, because NOW I realize how much that book changed my few of contemporary YA fiction written by two of my favourite authors.
Have you ever read a book written in a play-format? Do you enjoy these kinds of books?