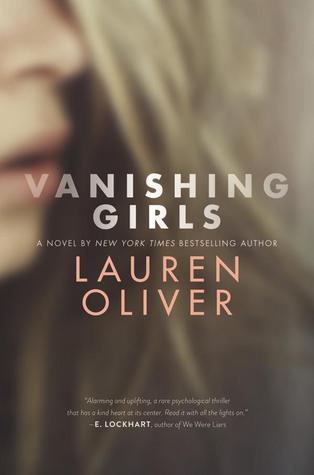 Vanishing Girls,
by
Lauren Oliver
Publication:
March 10, 2015, by HarperCollins
Genre:
Young Adult Fiction, Contemporary, Thriller, Mystery
Pages:
357
Format:
Hardcover
Source:
Borrowed
Rating:
New York Times bestselling author Lauren Oliver delivers a gripping story about two sisters inexorably altered by a terrible accident.




Dara and Nick used to be inseparable, but that was before the accident that left Dara's beautiful face scarred and the two sisters totally estranged. When Dara vanishes on her birthday, Nick thinks Dara is just playing around. But another girl, nine-year-old Madeline Snow, has vanished, too, and Nick becomes increasingly convinced that the two disappearances are linked. Now Nick has to find her sister, before it's too late.




In this edgy and compelling novel, Lauren Oliver creates a world of intrigue, loss, and suspicion as two sisters search to find themselves, and each other.
Oliver gets me every, single time. From Before I Fall to Delirium, she simply just knows how to image a reader's hopes and dreams for a YA book into a real thing. After reading this, I felt as if I've vanished... into a world of sisterhood and death.
That whole paragraph had to be bolded, let me tell you. Now that I've just finished this book (as I'm writing the review), I'm unable to forget about the chapters and me, anxiously flipping the pages, wanting more and more. It's all over now, and I can't believe how
quickly
an author can get a reader hooked to their delivered writing.
I feel that Lauren Oliver makes a different story every time, from her heart. Maybe she dreamt of this, of two sisters who were once friends until they were separated by a boy, until one sister goes missing when no one expected it. Maybe she just came up with it when she was sitting at her kitchen table, drinking a cup of coffee. Maybe she thought of it when she was grocery shopping. It doesn't matter, because Oliver can simply write a novel and we'll all love it, no matter what the fudgely fudge it'll be about.
With her books, it's like she sends a special UPS delivery with this book into our hearts.
"Sometimes people stop loving you. And that's the kind of darkness that never gets fixed, no matter how many moons rise again, filling the sky with a weak approximation of light."
Yeah, I'm one of the happiest fellows in the world after reading this. IT WAS LIKE A PSYCHO PARTY the whole time through. As you know (or you may not), I'm the biggest fan of psychological thrillers. They're my favourite kinds of books, and I find that I'm always lurking for a new one to warm my heart (and get me to read under the blankets with) every single day. This was a perfect example of a well-written psychological-thriller that kept me guessing. And since I'm not the master of figuring out the ending, I was shocked, repeatedly.
Dara and Nick Warren are two sisters who were once best friends who told each other everything and always seemed to include each other in their lives no matter where they were. At the same time, they are complete opposites where Dara's always looking for attention and for trouble, while Nick does great in school and always sticks up for the people who she loves. When Dara hooks up with Nick's best friend, Parker, their bond is immediately broken as Nick once felt something for Parker, and now that's all taken away from her. When a nine-year old in their town goes missing, everyone's shocked, but then Dara disappears as well and Nick knows that it must have something to do with the other case.
This definitely can be said to be a poignant read. I, for myself, am heart-broken with the ending, but at least it wasn't predictable. It had shed a light onto me, getting me to wonder what the real meaning of being-there-for-someone really is, and if it matters. The concept was hitting me hard, and I'm cheering for more. The fact that Oliver added the vanishing of Dara in the end of the middle made this even better, as we expected her to go missing on any page and we kept going with the story, sticking up for both girls in their struggles and rough times.
You'd probably expect these girls' lives to be perfect other than the struggles that they are having to deal with each other. But, it's definitely not. Their parents are getting divorced, and Nick doesn't know who she should stick up for, when her mother is taking pills all the time and isn't herself. Dara feels that she has no real friends and anyone she could really trust, where Parker keeps on breaking up with her. Life is a fucking waste, they feel at times. But the point of their stories was for readers to feel the emotion and that they're there for the girls, sticking up for them, patting their head and letting them know that it's all going to be okay.
"For his perfect lips and his smile and those stormy eyes and the fact that even standing next to him I can feel an invisible force moving between us. Magnetism, my chem teacher would call it. The seeking of a thing for its pair."
I can tell you that the plot was pieced perfectly. It took the stand to get to the circumstances of a contemporary-thriller in the perfect pacing and readers knew that we would get there. It's not like Oliver made the story eerie and absurd from the start with
rolling eyes
moments. This was real, with a tragedy noted in the beginning, but them trying to move on. There weren't any boring moments whatsoever, and I felt connected. That's a definite A+ for relating.
Nick was a character who I can relate to. Looking at the way that she dealt with things was simply in a matter that I see myself doing as well. She realized the kind of sisterhood that she had with Dara, and how much she loved her. Even through the end, she felt that she will always be there for Dara, in spirit or not.
And for her love life, I love the way she dealt with it all, and how she wanted to take things in a slow pace.
Dara, on the other hand, was the opposite of me. I didn't like her. She was absolutely annoying and looking at the fact that she didn't see how much Nick loved her kept punching me in the face. She was a thief (Parker) and she didn't care about her family. She was stupid, and although I understood some of her pain, she took things too far and had so much angst in her that she
was ready to explode.
I loved how we never would know why she vanished...
Parker and Nick were perfect. I love boy-girl friendships, and I can tell you that I was totally envious of the connection that they shared. I never was in a kind of opposite-gender friendship like they had, and it got my heart aching as the bond that they once had broke, and mended again because of the disappearance. Like I always say, bad situations can lead you to good ones, even when you don't expect them. Parker was a guy who'll always be there, hanging a red flag, waiting for you to come along even when you don't feel like it, because you always will.
I am almost left with nothing inside of me, as this book has clogged and vacuumed all of my emotions away from me. The writing and plot were perfect, and so was our kick-ass character of Nick, but something was missing in the end. Maybe if the relationship between Nick and Dara against their parents would've been stronger, then I would've had more emotion left inside of me? If they cared (which they seemed to not), I would've been more happy with the ending? Because really, all who cared for Dara were Nick and Parker. I can't seem to think of anyone else who wanted to hug her and let her know that they're doing everything for her. But really, in the end, this definitely is a book of 2015 that everyone will remember, if they felt for Dara and her story or not.
What is your favourite Lauren Oliver book?