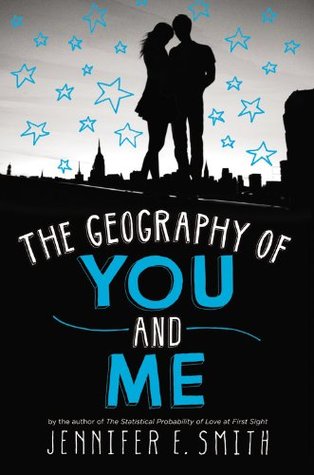 The Geography of You and Me,
by
Jennifer E. Smith
Publication:
April 15, 2014, by Little Brown
Genre:
Young Adult Fiction, Contemporary, Romance
Pages:
352
Format:
Hardcover
Source:
Borrowed
Rating:
Lucy and Owen meet somewhere between the tenth and eleventh floors of a New York City apartment building, on an elevator rendered useless by a citywide blackout. After they're rescued, they spend a single night together, wandering the darkened streets and marveling at the rare appearance of stars above Manhattan. But once the power is restored, so is reality. Lucy soon moves to Edinburgh with her parents, while Owen heads out west with his father.




Lucy and Owen's relationship plays out across the globe as they stay in touch through postcards, occasional e-mails, and -- finally -- a reunion in the city where they first met.




A carefully charted map of a long-distance relationship, Jennifer E. Smith's new novel shows that the center of the world isn't necessarily a place. It can be a person, too.
Jennifer E. Smith has always been known as an author (especially to me) who truly writes fantastic contemporary romance fiction. She writes with passion, and although her stories aren't always too believable, they're always enjoyable and I can spend a nice quiet night with them. In this case, this probably was her worst book, and I didn't like it as much as I wish I had.
Traveling is always a concept that Smith features in her books. Every novel she writes takes us to another place in the world that I've always wished to be in.
Wanderlust, much?
Since every book I read takes me into someone else's life, I feel that I'm witnessing another story in the most unique way since this isn't your average modern-day chick-lit. This features a long-distance relationship that even the protagonists and love interests don't even believe exists, but the readers sure do and we can only hope that things will get better between them. Here, Smith takes us to New York City (where I will be in late-May, I CAN'T WAIT), London, Prague, San Francisco and Switzerland.
The title definitely makes sense now, especially when I think about it at the moment.
"His eyes widened as their lips met, and the nearness of her made the world go blurry, until all at once, it wasn't; all at once, it came into focus again, and the clearest thing of all—the truest thing of all—was the girl right in front of him. And so he closed his eyes and kissed her back."
As the title goes and from the paragraph I just told you about, this book has a simple plot, and I can't argue that this aspect didn't change my opinion of the book itself. This goes on with Lucy and Owen, two people that fate seems to
mistakenly bring them together, especially at the right moment.
Lucy has lived in New York for most of her life, in the same apartment that overlooks on the most pleasant city views. Her dad announces that they'll be moving to Switzerland, just at the same time where she falls in love with Owen, who just has moved to the same building as her and they fall in love... in an elevator.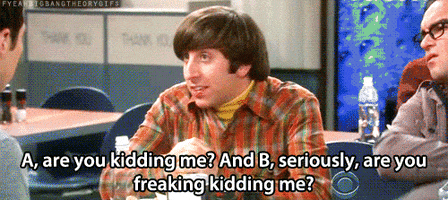 Yes, in an elevator. This actually is a fantastic concept, and I find that one incident can bring people even more closer together than spending longer, quality time together with a random person. This had a similar concept as Elana Johnson's Elevated, where two people fall in love in an elevator, but this was caused by a blackout instead, and well, things got more complicated since they barely spent time together afterwards. This was the cute part, and although I sadly don't picture this happening in reality, readers can only wish for something like this to happen, right?
Moving out is supposed to ruin relationships and the most cheesy and well-known concept here is that people never share contact afterwards. Lucy and Owen... Well they didn't make contact afterwards (barely), but they couldn't stand being without each other. At first, our dumb Lucy felt that everything and her homesickness of New York was only about the city and the fact that she lived there for all of her life, but it was more than that. And I can tell you that this book was about mending that and giving the characters hints to realize that their missing and hearts are asking for each other.
*barfs* It was cheesy. It had really gooey moments. And I think I didn't enjoy at the biggest part was because I couldn't feel for the characters and there was no emotions. I didn't feel pathos, or guilt, or pity, or happiness. I was sitting there with a monotone face, and even the best book that I've ever read (*cough* All the Bright Places) couldn't make me smile. Does that show you some clues of a not-so-good book? Absolutely.
Smith's writing always impresses me. She can honestly start the action off from the first page and I won't ever get bored. Here, I felt the same way. Yes, every book has its weak moments where you just have to roll your eyes, but I enjoyed the plot and the way things were held. It was fast-paced for a love story, since we got to read all about the protagonists' different adventures in different parts of the world.
I guess that this book gets everyone to think. To dream. What's it truly like to be in love? Maybe I'm just really judgmental and don't see the real picture since I've never been in love, and maybe this is realistic. Am I saying that no one's ever felt this way? Absolutely not—everyone has. But I guess that in the time frame and through the characters' emotions, I just don't let it fly by me and feel that everything's okay and normal here. Do I wish that I'll experience the love that Owen and Lucy had felt? Umm.. yeah. They were cute and they were two teenagers who couldn't live without each other, and them seeing other stuff brought them closer.
Lucy was my big problem. Since I felt no emotions for her, I didn't like her character. I felt like she moped around most of the time, and didn't care for anyone except Owen. She was rude to her parents, and all she wanted was things to go her way. Couldn't she understand that things don't always flow in your direction? This was your typical whiny teenager, and even though I'm a teenager, I'll admit that I feel that she's your cheesy one.
And guess what? The same with Owen. I didn't see him as a futuristic fictional boyfriend for me, and he wasn't even attractive in a written way at all. He did go deep, and I felt tons of pity for his character since things never went in a happy manner until he met and fell in love with Lucy. He finally got to live in the impossible that he never believed in, and Smith really shined a huge spotlight on his character.
From all of Smith's books, this took the most unattractive approach. It wasn't horrible, but it wasn't amazing either. There were some nice aspects about it, like the concept and the deepness that the author took while she tried for us to understand what the characters had to deal with according to their "loss" from each other. Be aware for relationships, wanderlust from the gorgeous locations mentioned, and no emotions. Looking at the ratings, you'll find that everyone has a chance to be impressed with this in some way. Hey, I can say that I'm looking forward to her future novels!
What is your favourite novel that has brought you to feel wanderlust?