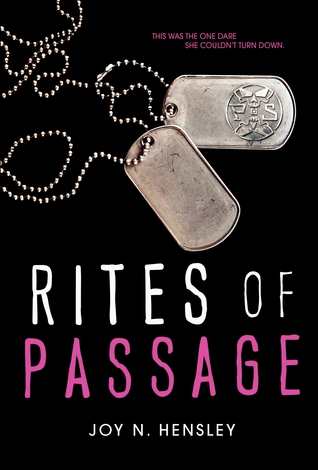 Rites of Passage,
by
Joy N. Hensley
Publication:
September 9, 2014, by HarperTeen
Genre:
Young Adult Fiction, Contemporary, Romance
Pages:
416
Format:
Hardcover
Source:
Borrowed
Rating:
Sam McKenna's never turned down a dare. And she's not going to start with the last one her brother gave her before he died.




So Sam joins the first-ever class of girls at the prestigious Denmark Military Academy. She's expecting push-ups and long runs, rope climbing and mud-crawling. As a military brat, she can handle an obstacle course just as well as the boys. She's even expecting the hostility she gets from some of the cadets who don't think girls belong there. What she's not expecting is her fiery attraction to her drill sergeant. But dating is strictly forbidden and Sam won't risk her future, or the dare, on something so petty...no matter how much she wants him.




As Sam struggles to prove herself, she discovers that some of the boys don't just want her gone—they will stop at nothing to drive her out. When their petty threats turn to brutal hazing, bleeding into every corner of her life, she realizes they are not acting alone. A decades-old secret society is alive and active… and de termined to force her out.

At any cost.




Now time's running short. Sam must decide who she can trust...and choosing the wrong person could have deadly consequences.
Looking at the YA variety of books today, I can definitely tell you that times have changed.
More books are being released, there's surely less paranormal cheesy romances coming out, indie authors are becoming more looked upon on, the 5 big publishers are getting stronger, diversity is being a big-must throughout the age group,
and issues are being seen in writing.
With
Rites of Passage,
Joy has written a novel that will stick in readers' hearts for ages, as she dealt with sexism and being in a military high school all in 400 pages, with additions of romance and friendship.
Can we just say that Sam McKenna totally kicked ass throughout the novel? I mean, she supported feminism and she did whatever it takes to make sure that she would be seen, and for that matter,
for she would be seen equal to all of the other recruits.
I'm just going to talk about her first since she was my favourite part of this whole novel and I'm so glad that the author has written about a person like her, someone who I'll look upon in a few years and will remember because of her strength and willingness to change the world for girls' reputations. I wonder, after reading, if this was kind of Joy's story, as she once was in military school, too, just like Sam. Of course, this may seem like only a matter of fiction, but for me, everything was believable and I just understood Sam's talk and her story, although I surely would've never wanted to be put into her situation where she has to calculate everything in military time, wake up at 4 AM, and climb ropes and jump over walls and get yelled into her face, just for the fun of it since she wants to. I'd be that sore loser in the corner who's crying and bawling to her complete ability.
This all began when Sam's older brother, Amos, dared Sam to eventually go to military school. And this isn't just for fun where her family will be begging her not to and they'll be bribing her to not go. Her family is known for this, as her father is actually a colonel and actually is in the Army. Then, Amos hangs himself and Sam's the one who finds him. Sam knows that she'll have to go, as she'll never decline a dare and she wants to continue Amos' legacy. When she gets to DMA, everything is horrible. Yeah, there's the obstacle courses and injuries, but there's also the sexism where she feels that she's being treated differently and unfairly compared to the others. And of course, she finds feelings for someone when she's absolutely not supposed to when it's against the rules. Will she be able to improve and kick butt?
Of course she will. From the first chapter when we met Sam, I knew that she'd be capable of accomplishing everything. It's all in her blood, and she's so confident and wants to be the first female to graduate from DMA and really become somebody and impress her parents. I just wanted her to be happy, and with her wit and the friends that she had around her, I knew that she'd try her best.
"Girls are slow. They're weak. They're scared. The best thing you can do is get them to give up before classes start. Then we can all go on with our merry lives."
I liked how Hensley touched upon this. People absolutely need to be more aware of what's happening in our world, and it's a perfect example. Since the training is already tough and people go through so much emotional and physical stress and abuse, adding this issue into Sam's life was horrible, but she had to deal with it, right? And the worst fact was that there were people after her since they knew that she was strong and wasn't willing to give up, so they would try to injure her and make her leave. The Society, they call them. Of course, many dramatic scenes came out of that since Sam herself had heard rumours about who may have been part of that group, and things had gotten worse. So yes, the themes and subjects that were found throughout had been a perfect addition to this novel and to the setting that Sam had found herself in through the whole book.
I have to admit that the beginning of the book had me wondering what the rest had in store. I thought, "400 pages? This is going to be a lot of filler and mishaps." Yeah, the beginning was really slow and I lost some of my interest, but I kept going since I adored Sam and Matthews' characters, and I was hoping for a better storyline. It started off slow, then progressed into a speedy paced story.
"Besides, I refuse to be that girl. The one who could've made it, and who gets booted over a stupid fling, a never-ending walk of shame. Everybody's out to get me, and to fail over something like that? No. I won't do it."
In a way, some
can argue that she did DO IT.
Okay, I admit that the romance was fling-like, but what I liked about it was that it came in at the middle and the main focus of the book wasn't on it. I guess that it was something else that Sam could think about, and it was a good thing for her, except she worried that someone would find out and then she'd possibly get sent home. And by the way, there was sort of a love triangle, and I supported both ends and loved both ends, though the way the book ended made me unsure of which side
she actually took.
I guess Joy left it to us to decide on to whom we loved better with Sam. *laughs*
Matthews, Jonathan, Evers, there were many guys who hadn't treated Sam right. She did a great job of keeping them away, and trying to not give a shit about them, since that was right. She did understand that if she stayed at DMA, then she'd probably have to work with all of the guys when the next recruits come and after that in her later college career, but her attitude was always positive and she didn't
flinch a bit.
What hadn't come to me clearly was that some of the things going on in Sam's life weren't clear to me. What else happened in her family life? You see, the author only touched a bit upon her brother's suicide and the stuff with her dad. What about her past friends? Her boyfriends? I know that this is a darker contemporary with secret societies, but it'll still be good if we had some background information, just saying.
Well, this was a different novel that definitely gave me a different eyesight on girls doing awesome things. You see, I just told my mom that I'd like to attend military school and she said sure.
Then I flinched and shivered and ran away.
I told her I'd only go if Drill was there, and she looked at me with an eerie look. She'll never understand. ;)
With a picture-perfect romance and protagonist, and of course the sexism and family issues that were touched upon of, Joy N. Hensley has written a contemporary novel that I will never forget about. Readers, read this, readers! *everyone looks quietly around me because they don't understand* Now we can all hope that my fangirling would stop and you're all wishing we're getting a sequel so I can stop blabbing, yes?
Sign my rite of passage and we'll talk. BUT FIRST, READ THIS.
Would you ever go to military camp... even if it was a dare?