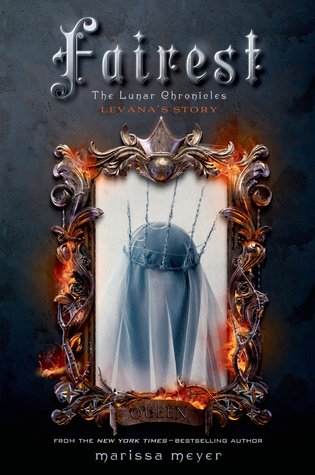 Fairest (The Lunar Chronicles #3.5),
by
Marissa Meyer
Publication:
January 27, 2015, by Feiwel and Friends
Genre:
Young Adult Fiction, Dystopian, Science-Fiction, Romance
Pages:
222
Format:
Hardcover
Source:
Purchased
Rating:
In this stunning bridge book between Cress and Winter in the bestselling Lunar Chronicles, Queen Levana's story is finally told.




Mirror, mirror on the wall,

Who is the fairest of them all?




Fans of the Lunar Chronicles know Queen Levana as a ruler who uses her "glamour" to gain power. But long before she crossed paths with Cinder, Scarlet, and Cress, Levana lived a very different story – a story that has never been told . . . until now.




Marissa Meyer spins yet another unforgettable tale about love and war, deceit and death. This extraordinary book includes full-color art and an excerpt from Winter, the next book in the Lunar Chronicles series.
I swear that if it wasn't for this piece of literature excellence, I would've been stroked into a horrible
reading slump.
Everything that I've been reading lately has been disappointing me, and I haven't had a five-star rating read
in ages.
Marissa Meyer never fails to please me, and here with a prequel to the science-fiction romance series that took and stole my heart when I was 11, I am once-again obsessed and am eager for the conclusion to this series,
Winter,
coming out at the end of this year.
Can November come any faster?
I seriously don't even know what to say. I've finished this over the course of an hour and a half, unable to put the book down and promising myself that I will get up to get a drink of water once I finish reading. If I honestly had to get up, I would take the book with me, go down the stairs reading it... and fall flat on my face. Then I'd seriously need some glamour to save me. But really, this book had its own glamour, and Meyer didn't have to add anything extra that she hasn't in the other novels to make this one perfect, as it definitely was.
What I can tell you is that this had no flaws whatsoever. The plot was perfect, as were the characters, AND I adored how this was a prequel, where we got to learn more about the awful character of Levana whom I've now come to love as I've just read her brutal history and all of the shit that she had to go through to be where she is now in the books. I seriously cannot blame her for acting the way that she does, and this gave us a total recap as we found out all about her steps to the throne, the incident with her sister, what she had to do with Selene, and who Winter will come to be. *squeals*
I'll tell you here that you can even read this before you begin the series. If you haven't read Cinder yet, then you can honestly go to this one because there's no spoilers. It should also be marked as a 0.5 to the series, if you ask me. Yeah, there's bits of Cinder here, but you don't know who she is so it's all okay. And then once you actually get to the main series, you'll know more details than us who began the series when it came out ever did. You are one lucky duck, but I'm still smacking my face here, wondering why haven't you gone over to this series already.
"Levana was a statue. A girl carved of regolith and dust."
You know how Levana always speaks of her glamour and how perfect she is? Well this is a flashback to her whole history. Here is a transformation of her when she was younger to before
Cinder
takes place, and we meet the characters who are spoken of in the main series. We go through the situation with her dead husband, we hear about Winter and she how she was when she was a child, the stuff with Selene, and all about how Levana stole the throne from her and her mother, (Levana's sister) Channary.
Yeah, I have to admit that I didn't want some of the things that Levana did (and regretted about) to happen as well, but it brought us to the situation and if she turned things around before, the main series would've been completely different and would've reflected off of those actions. I can't say that she made bad decisions, but she made me shed some tears quite a lot, especially when she was younger and wanted to marry Evret... poor girl didn't know what love really was and kept everything a lie for TEN YEARS. *cries*
"The pain was relentless, the agony never ending. She pleaded for death, but it never came."
You know, I can really go on and on about Levana. For me, there's no hate from me to her, and even looking back at my previous reaction of her and what she did to the people of Luna. But I COULDN'T BELIEVE EVERYTHING ABOUT EVRET. I SERIOUSLY LOVED HIM SO MUCH AND HE WAS SWEET AND HE HAD WINTER AND... well you'll eventually get the story. But bear to know that your heart will be shattered into a million pieces and you may or may not ever forgive Marissa. If
that
didn't happen, would Levana have been more happier and different in the main series? *wonders*
So I can tell you that although the romance was forced (by Levana herself), it made sense and it worked. I shipped Evret and her so hard, from the beginning where she first laid her charming eyes on him and knew that she wanted him. And hey, she's a princess, and a princess gets what she wants... though we never expected her to be like that. But she cared for Evret, obviously, as he was the only person whom she ever showed her true side to, without the glamour. To him, he thought that she was lying to him for their whole marriage, but don't you think that it's difficult to show someone your scars and the things that ruined you? He didn't get it, and that put more sorrow into me, definitely.
Seeing Winter and Selene around really had fluttered my heart. As we'll get to hear more about Winter's story and legacy next, this gave us the perfect introduction and we now found who she really was and what Marissa has in store for her...
This is a very short novel with only a length of 222 pages, but it feels like it's stuck with me forever. Levana's story never ends, as she sure is the antagonist of the main series, but through this book, I feel like we've grown to love her and understand her, where I'm hoping that that's what Meyer was planning to get from this prequel.
The story, writing, characters, concept and setting gave us just the right amount of everything, and truly gets me to wonder who's the fairest one of all in the main series now... as they've all had a rough time.
Did you like Queen Levana in the other books of The Lunar Chronicles?