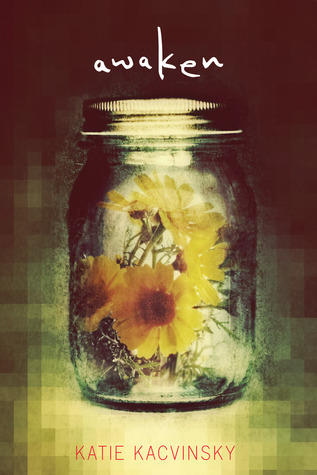 Awaken (Awaken #1),
by
Katie Kacvinsky
Publication:
May 23, 2011, by HMH Books
Genre:
Young Adult Fiction, Dystopian, Romance
Pages:
309
Format:
Paperback
Source:
Gifted
Rating:
½
Maddie lives in a world where everything is done on the computer. Whether it's to go to school or on a date, people don't venture out of their home. There's really no need. For the most part, Maddie's okay with the solitary, digital life—until she meets Justin. Justin likes being with people. He enjoys the physical closeness of face-to-face interactions. People aren't meant to be alone, he tells her.




Suddenly, Maddie feels something awakening inside her—a feeling that maybe there is a different, better way to live. But with society and her parents telling her otherwise, Maddie is going to have to learn to stand up for herself if she wants to change the path her life is taking.




In this not-so-brave new world, two young people struggle to carve out their own space.
The thing is, I've tried to hold off writing this review for a while, keep on rescheduling it and moving it along, but it's time to let my thoughts overtake everything that I've ever
known about dystopia
and throw it away. Jokes, jokes, it was April Fool's Day, and I'm only kidding about wanting to let go dystopian novels. That's just a part of it, and the genre is made up of so many better novels that are able to capture readers' hearts and spin them into a world where the impossible happens in the future. In this case, Katie Kacvinsky has given us a complete other situation that no other author has done before... at least from what I've seen and read of.
Yes, using damn computers to do everything. And isn't it already ironic at the moment that everyone's classified as lazy because of the time we spend on the internet doing random things and playing virtual video games? How did the future evolute to something like this? *wonders* Okay, but I'm honestly not trying to go theoretical here, as it's a novel that's not too believable, either. Don't expect yourself to be dreaming about Maddie and Justin falling in love tonight. It's not going to happen, at least, it won't ever happen to me.
That's the main subject point here: everything is done virtually with computers and technology. The funny thing is that Maddie's dad is super rich and he had invented virtual school where children are supposedly learning better from computers and e-lessons and interacting socially with people, all in the course of the online thing. And now, he's complaining about Maddie doing too much and exposing his information out to the general public. It's HIS FAULT. *feels like can argue for centuries on this matter* So now, Maddie's trying to be rebellious and goes out and meets Justin, a guy who she's planning to study with, actually in the real world. She lies that she's going to soccer practice when she's actually going to see him... and well, you get the story. They fall in love.
"Online we were all equal. Social status wasn't important. Money and looks and jobs and clothes almost become obsolete. So who cares what my real name is? It's just a label, like a particular brand of person. Who cares who sits behind it when we only meet in waves of space?"
You see, Maddie was definitely unlike her father. She was kick-ass and awesome, though her insecurity and stupidity (when she's trying to make decisions) was weak and strange compared to that of other protagonists in a manipulative dystopian-world novel. And really, you don't want me to get to the
subject of Justin.
Let's just say that I hated their connection and didn't support them together...
I felt that he only used Maddie and that there were some weak feelings because HE JUST FELT like he had to kiss her because it seemed right. MANIPULATIVE? Yes, just like her father.
"You're a spectator. People are becoming spectators of their own lives instead of living them. But the best part is getting the game. That's when it's all worth it."
And hey, I'd absolutely recommend to take an extra precaution before reading, as you'll need time to get through this. The plot is very slow-paced and I must say that although Kacvinsky is a great and strong author, her message wasn't as clear and I didn't like her characters. The only great thing was the concept and some of the action scenes that took Maddie against her own will. That was unexpected, I kept telling myself. *gives a round of applause*
This book truly has awaken me into seeing the true side of diverse dystopia and something that no author has ever done. I haven't seen something like this, though there were such weak characters in the plot that I almost DNF-ed this, but I felt bad since there were already a few that I have lately. Will this awaken you? Hopefully, but this will be better for you than for me.