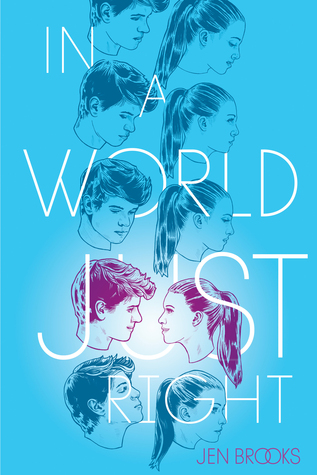 In a World Just Right,
by
Jen Brooks
Publication:
April 28, 2015, by Simon and Schuster
Genre:
Young Adult Fiction, Contemporary, Romance, Fantasy
Pages:
432
Format:
ARC
Source:
Author
Rating:
½
High school senior Jonathan Aubrey creates worlds at will. In Kylie-Simms-is-my-girlfriend, he's given himself everything he doesn't have in real life-–the track team, passing grades, and his dream girl–-until one day he confuses his worlds and almost kisses the real Kylie Simms. Now his girlfriend Kylie and the real Kylie are changing, and Jonathan must solve the mystery of his own life to save his love from a gruesome fate.
Since mid-2014, this book has been on my eye, and I must say that it's been one of my top most-anticipated reads of the year. Now that I've gotten the amazing chance to read it early, I have to say that EVERYONE MUST READ THIS AS SOON AS IT'S RELEASED. You won't be disappointed, and to this moment after finishing it last night (as I'm writing this), I still have the chills running down my spine. Of course, the longing for the picture-perfect romance that Jonathan and Kylie had will always haunt my mind as well.
I am left without words, I have to admit to the fullest extent. What I expected the themes and genres to come out of the book weren't exactly what was
actually released,
instead it was something much more surprising and wicked. I would never expect the aspect of the fantasy to go to that level, and parallel universe-novels always end up a favourite of mine every single time. The author puts readers into a situation where we'll want to be there for our main male protagonist, Jonathan, and go out and create worlds with him. Perhaps we'll make our own universes where we'll be dating our fictional boyfriends... hmm?
Before I get into the serious and raving moments of fangirling and actually raving, let's talk about the gorgeous storyline that was set up for us here. Jonathan Aubrey was one of the only survivors of a well-known plane crash when he was six. He instantly was sent into a coma, and woke up with the ability to make different worlds. Yes, all he has to do is shut his eyes tightly, and picture the things that he'd like to see. After that, he had no friends in the real world and spent most of his time in his Kylie-Simms-is-my-girlfriend world where he's dating the girl of his dreams. What happens when both worlds mix and things go chaotic?
"She doesn't let go of my hand, though, and although I'm dying because this incident will ruin my obscurity as soon as the ending bell puts the gossip mill in motion, I squeeze her hand back in solidarity."
I have to absolutely say that the ending of this brilliant piece of literature is what brought this book into its new standards—where the genre switched in to something unrecognizable, but in a totally great matter.
We were shocked, thrown around and I never saw that coming.
Can we just say that suspense, thrill and mystery was added to all of the fun as well? I adored the concept of this and it also somewhat reminded me of Erica O'Rourke's
Dissonance,
though we had an intelligent male protagonist who did what he did for an absolute different reason. What's the best thing to do in your life if you're lonely and have no one... other than creating the most masterful world for yourself? I can tell you that after reading, there's almost nothing better other than doing this, where he is living the perfect life, although he most certainly has to visit his old one.
I couldn't believe how unique and different this was to most afterlife-kind-of-thing that's pretty common to find in YA literature today,
but from the moment I saw the summary and cover, I knew that this would be something special.
One of the best things that this book held was the fact that it shared tons of passion. The author and the protagonist's message were so special and I felt all of the emotions that he had. I did shed some tears, share some laughs, squealed over the romance and the kissing between Kylie and Jonathan, and fell for the poetry and writing that was incorporated.
It didn't go over the top, but it was special for a novel that's mostly based on the world-building.
432 pages? This is plain awesomeness, where I find that I enjoy books when they are longer. The storyline shared the perfect amount of detail, climax and building, and although it was long, it was a standalone and the author gave us the right amount for a first and final novel in Jonathan's world...
or at least of what we know of.
One of the tiny mishaps that I saw was a weak start until about page 50, but that may have been because of my attention span and
you should just go on.
From there, I can tell you that everything's fast-paced, interesting and you'll find yourself falling in love and wanting to stay in this world
that's just right.
Can we just hop into Jen Brooks' mind and continue this journey with Kylie, Whitney, Luis, and the rest of the memorable characters? I can't stop thinking about them and what may be happening to them at the moment (since I can't even see them as fictional characters as they mean so much to me). Without the side characters, we can all predict that Jonathan would've never grown up and see the truth behind the reason why he does everything and why does he leave the world that he lives in. It's certainly not his fault, and I kept on feeling guilt to the highest maximum for him. Pathos was everywhere in this book and I kept wondering if Kylie's character was only feeling guilt to go for Jonathan and just did it out of pity. Of course, it was true love, my lovely friends.
"I'm less her boyfriend than her keeper. Her creator. And this change in how I see her sickens me, frightens me, because all this time I thought I loved her. Oh. God. I do love her. That's not what I meant. Is it?"
Man, did they have a connection. *sighs* From the beginning when we really got to know Kylie's character, I felt that she was his remedy, and he would be a broken soul without her. And even if he didn't make worlds or anything and only got to see and be with her,
those moments are sacred.
And those moments when they were in the third grade? *blushes and tears up* AWWWWWW, this is the cutest of the cutest.
In the end, I can tell you that everything about this book was fantastic. The ending left me hanging and begging for more books by Jen Brooks, a great storyline, and one of the best protagonists that I've ever written about. The premise left me wishing that every other book I've read this year would end up like this one! I swear, if you go your year without reading this book,
you'll miss out on so much. Better go out, preorder and adore it as much as I did!
This, especially, left me wondering if the world that seems just right will ever end up being one's reality, and I guess that this book wholly gives you that definite answer. Go for it!
*A review copy was provided by the author in exchange for an honest review. Thank you so much!*
What would you put in to a world if it was all your choice?