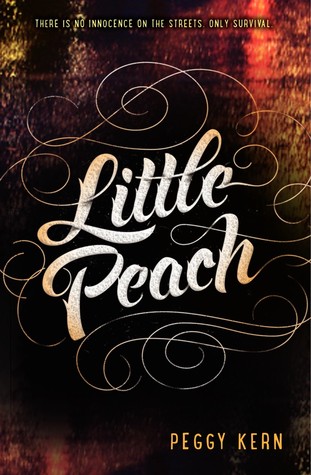 Little Peach,
by
Peggy Kern
Publication:
March 10, 2015, by Balzer and Bray
Genre:
Young Adult Fiction, Contemporary, Mystery, Abuse
Pages:
208
Format:
Hardcover
Source:
Borrowed
Rating:
What do you do if you're in trouble?




When Michelle runs away from her drug-addicted mother, she has just enough money to make it to New York City, where she hopes to move in with a friend. But once she arrives at the bustling Port Authority, she is confronted with the terrifying truth: she is alone and out of options.




Then she meets Devon, a good-looking, well-dressed guy who emerges from the crowd armed with a kind smile, a place for her to stay, and eyes that seem to understand exactly how she feels.




But Devon is not what he seems to be, and soon Michelle finds herself engulfed in the world of child prostitution where he becomes her "Daddy" and she his "Little Peach." It is a world of impossible choices, where the line between love and abuse, captor and savior, is blurred beyond recognition.




This hauntingly vivid story illustrates the human spirit's indomitable search for home, and one girl's struggle to survive.
What would I do if I were in trouble? I really don't know, but after reading this thriller that left my emotions piled onto the ground and me having nothing left, I certainly know that I will never do or want to go through the situation that poor 14 year old Michelle had to go through.
The thing is, I'm fourteen years old, and I know what it's like to be a young adult, when you're a freshman in high school and all of the expectations of you
having to be mature and responsible
is on your back. Hey, it's what teenagers are known for, and the expectations keep on growing as we get older. But here, it just sends thousands of crippled shivers down my spine, thinking about how such a young girl is: kicked out of her home and then used as a prostitute, leaving us to wonder what the hell happened to her that got her into the "present-day situation" that Kern brings us in and out of.
What really moved me about this novel was the fact that it wasn't lengthy at all. 208 pages? That's really short compared to the length of some other emotional novels that have moved me in the past.
But it's surprising since the author did a great job at just keeping it all short and simple, where fans are encouraged to enjoy the novel even more.
And now, all readers are probably so much more interested in the subject of teen prostitution and living in urban cities where these kinds of things happen hourly, and every minute no matter what street you head on.
"Daniela Cespedes, CSW. You're the one I came to find. You're the one I've bet my life on."
And actually, this is the best because it stems from
a real experience.
When reading Kern's acknowledgements, I saw that she actually had met two inspiring young women who had gone through the same things as Michelle. They told her their stories, where Kern actually even went on an expedition with a New York detective to search through the city and find these kinds of experiences. But I was still left a
little sad and down,
so no rainbows for me.
Looking at the events of this novel and seeing who had been impacted, I see that everyone needs help sometimes, but some need it more than others. Michelle was so excited to leave her house in New Jersey and her abusive mother that it just made sense for her to be happy and start a new life. Of course, she rebelled and got into so much garbage and possibly the worst situation, ever, but I don't want to blame her because she was just a child. And that's another reason why this is simply young adult fiction, as an adult character probably would've been more smarter.
"He put his name on me. Try to touch me now. I dare you."
Michelle wakes up in a hospital in Coney Island, New York, where she barely remembers what happened or why she's there. It's not your typical cheesy paranormal story, though. Michelle fled from her drug-abused mother from Philadelphia, and decides to go to New York to go to find her friend, the only place where she can be safe and free. Once she gets off of the bus, she meets Devon, who promises her food, clothing and a new home where she
thinks
that she'll be free. Soon enough, she's brought into a world of drugs, manipulation, and prostitution where she doesn't know if she should flee or not.
I felt so much empathy and pain for Michelle.
For real, protagonists in thriller-mystery novels make me feel so bad, where I just don't know what I should do in the future to pick up other books. Michelle was a little clueless, but really, who could blame her in her situation? She once was sexually assaulted when she was younger by a man named Calvin who was her mother's partner, and she felt like it was
okay and normal.
I believe that if you don't have some sort of wide influence in your life, then you'll end up thinking that some things are alright and fine to do, as you see others doing it as well.
But really—the drugs as medicine?
She's 14, and her mother did drugs, and she ended up addicted. Didn't see have some street smarts about that in that sort of situation?
But, that's what character development is for, no? By the end, I'm glad that Daniela helped her and that 'Chelle took the steps she needed to get help and try to forget. Once your memory comes back of the dark, horrific moments of some event, you'll want to forget about it all and move on.
For the reason that this book was short, the plot was fast-paced as well. I ended up reading through it so quickly, and I didn't realize that time had passed by. I sat there in one sitting, devouring it all without realizing that time hasn't gone by. I felt everything that the author had wanted us to feel, and after man after man came into Room 4, my heart lost a bit of it further and further. When Baby (one of the other girls who lived with them) had a man who stated that he LOVED her (and she's 12), my heart broke and I wanted to throw my hand inside the book and rip his hair off. It's disgusting, but the truth is... that it's all true. And things probably get even worse than this in many situations.
The fact that this was all gang-related frustrated me even more. Devon and the others were part of the Bloods, and Devon himself was a wild freak. He made promises, but he just wanted to manipulate them and gain pleasure from seeing others' pain. No, he wouldn't go into them and try to feed himself with lust, but he did all of this garbage and picked random girls off of the street. I would surely love to find out the reason why he chose his "Little Peach" off of the street rather than anyone else, when he knew that there'd be a chance that she would leave his car and go off into the Pink Houses. And what happened with Erica? *wonders*
"But the wrong people die. The dead people are the good ones, the bad ones get to walk around like nothing. Like they got a right to keep breathing while the ones you need just leave their skin, waste away till there ain't nothing left but a stupid dirty T-shirt and what you can barely remember."
When I picked this book up, I wondered, "What the heck does Little Peach mean?" and I guess I was completely clueless, but the author here brightened up everything for readers in a matter of 208 pages where we're left without any questions, except all about the
after.
But at the same time, the after can go on forever and ever and this time, it wouldn't be a book, and instead we'd all see it as a story that's everlasting, but I know that Michelle's here will stick with me forever as I've never touched upon a book like this before.
Prostitution, gangs, manipulation and emotion, Peggy Kern's Little Peach really gave me a book like a bite into a peach: juicy and sweet, but with a dark core in the middle.