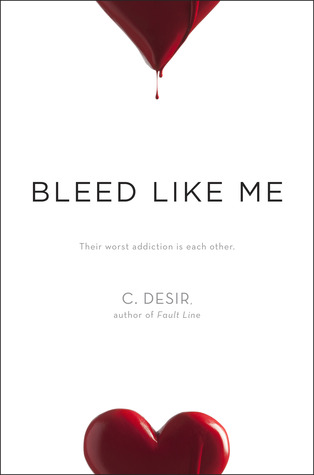 Bleed Like Me,
by
Christa Desir
Published On:
October 7, 2014, by Simon Pulse
Genre:
Young Adult Fiction, Contemporary, Romance, Abuse
Pages:
288
Format:
eARC
Source:
Edelweiss
Rating:
½
From the author of Fault Line comes an edgy and heartbreaking novel about two self-destructive teens in a Sid and Nancy-like romance full of passion, chaos, and dyed hair.




Seventeen-year-old Amelia Gannon (just "Gannon" to her friends) is invisible to almost everyone in her life. To her parents, to her teachers-even her best friend, who is more interested in bumming cigarettes than bonding. Some days the only way Gannon knows she is real is by carving bloody lines into the flesh of her stomach.




Then she meets Michael Brooks, and for the first time, she feels like she is being seen to the core of her being. Obnoxious, controlling, damaged, and addictive, he inserts himself into her life until all her scars are exposed. Each moment together is a passionate, painful relief.




But as the relationship deepens, Gannon starts to feel as if she's standing at the foot of a dam about to burst. She's given up everything and everyone in her life for him, but somehow nothing is enough for Brooks-until he poses the ultimate test.




Bleed Like Me is a piercing, intimate portrayal of the danger of a love so obsessive it becomes its own biggest threat.
*A review copy was provided by the publisher via Edelweiss in exchange for an honest review. Thank you!*
To be honest, I've never had many experiences with books like these—including self-abuse and all of that. It's such a heart-wrenching topic where I find that it's difficult to read about. You know, there are probably moments in these books where you will be shedding a few tears and feeling guilt and sorrow for the protagonist and person. In Bleed Like Me, C. Desir has created a precious world of sorrow and guilt, and it's floating around like the simplistic feelings of angst and happiness. What I do know is that it's crazy difficult to write a book with characters who are feeling that way.
You know, there's many books out there with characters who are so broken, like they're practically shred to the bone. This was the case of Amelia Gannon, depression and cutting addict. She's an edgy rebel who smokes and would rather sit at a skate park than stay in her own room watching TV. Her parents adopted three outrageously troubling boys for Guatemala who have to be dragged to therapy sessions and school meetings about their behaviour. Amelia's has had enough, and so have her parents. But she will never feel close with her family and feel a bond ever again. To get away from it all, cutting is her precious. It's what takes the pain away from her—but she's not suicidal. One day, she meets Michael Brooks, a foster kid with blue hair and who understands her. He begins to keep her away from cutting with their love, but she still feels eager to do it again and again…
From the 10 books that I've read so far this year, I have to say that this one carried the most feels and darkness. Totally unexpected, I didn't see such a dark book on the horizon. It basically showed the true teenage sides of being hurt and broken—when no one else realizes it. I totally can say that many people are able to relate to this book, as the issues of drugs, alcohol, self-abuse and depression are all present in the story, over and over again reminding us of Amelia's situation.
Now, beforehand, I read many reviews stating that the readers are going to cry at one point in the book. I guess it didn't hit me hard enough, or I'm really unable to relate to it, but I didn't cry or shed a tiny tear at all. It was horrifyingly sad and suppressed guilt all of the time, but nothing major happened to my heart except some aches and longing for Amelia and Michael to be together.
Have you ever watched one of those movies were the couple absolutely is perfect together? Take… Rachel McAdams and Ryan Gosling in The Notebook. Like, they're the star couple of the century, and in the movie, it was astonishingly gorgeous. That was Michael and Amelia for you. They were so alike in so many ways—taking risks, both hurt and broken, and I guess that opposites don't always attract, instead similarities are more attracting. Although I didn't have a cutesy crush on Michael since I would've never have wanted a guy like him because of his rebellious ways, they fit together like a puzzle, and Amelia was sure to not let anything get in the way of their relationship, even if it was Juvie for Michael.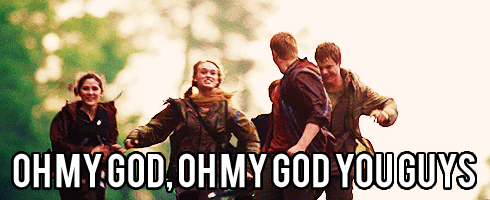 I find that more people need to read these kinds of books. There's so many out there but a lot of us aren't taking the chance to find that heart-clamping book that will break your heart. I love feeling bad for characters, especially since it makes me love the book more. And that shows that this book can happen out on the street, practically anywhere. It's so applicable to teenagers today, and that's what we need more of. Take a little fantasy out of your mind now and go for the contemporaries because those are surely happening around the world.
But do keep in mind that Brooks and Gannon are addicted to each other. There will be moments when you're going to be questioning their love and wondering if it's for real. It was a tiny bit psychopathic, especially the scene where SHE ASKS HIM TO CUT HER, but that definitely adds much more rawness and emotions.
What I didn't really fall for was my feels and the story itself. Yes, yes, the concept was gorgeous and totally intended for many teenagers (but not all), but something large was missing in the story itself. It was real, it was good, but I guess I wanted more of a friendship in between? Everything seemed to either have happened too fast or too slow. The tension between the characters were so magnificent and large that it was too much for me to handle. Both Gannon and Brooks were already making out after two weeks and he was asking for more. Really, what was this? And especially if you have broken characters, aren't they supposed to want to take things slow because they're usually hurt and not ready? *sighs*
What I can say for sure is that this book was really good—but not everything for me. I guess I missed the feelings and lack thereof, and the story's impact on the characters. What I did see a lot of was tension, addiction and inequality. But anywho, you should really go for this because it did leave me wanting more from this contemporary author. Take a step in and grab this psychological thriller which is recommended by me, and highly by many others.