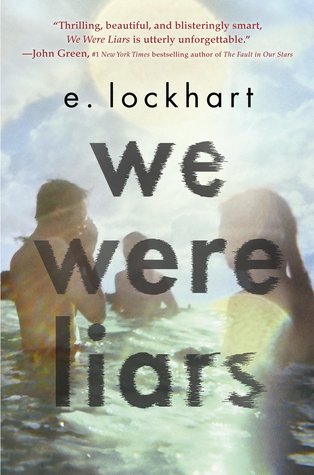 We Were Liars,
by
E. Lockhart
Publication:
May 13, 2014, by Delacorte Press
Genre:
Young Adult Fiction, Contemporary, Romance, Mystery, Thriller
Pages:
227
Format:
Hardcover
Source:
Purchased
Rating:
½
A beautiful and distinguished family.

A private island.

A brilliant, damaged girl; a passionate, political boy.

A group of four friends—the Liars—whose friendship turns destructive.

A revolution. An accident. A secret.

Lies upon lies.

True love.

The truth.

We Were Liars is a modern, sophisticated suspense novel from National Book Award finalist and Printz Award honoree E. Lockhart.
E. Lockhart is really one of my favourite authors. I've been reading her books for the longest time, starting off with
The Boyfriend List
back when I was younger. I can somewhat say that her books have been with me from the start, and this is a
huge change,
jumping from contemporary-chick lit to something kind of like
Dangerous Girls
by Abigail Haas. This was impressive and a great change to the genre that I've been dealing with recently.
As a perfect summer or midseason winter-blues romance, this can definitely be classified as a pure young-adult psychological thriller. From time to time while reading, I found that its type and genre kept switching to keep it looking "innocent" from time to time. If you read this at the beach and finish it, beware that a fear of the people sitting next to you will form.
Not such a typical summer read, huh?
The concept was manipulative to the mind, but it kept me thinking from time to time and the poetic written format was the most 'special' part of it all.
"I felt the love rush from me to Gat and from Gat to me. We were warm and shivering, and young and ancient, and alive. I was thinking, It's true. We already love each other. We already do."
As Oscar Wilde once said,
"No man is rich enough to buy back his past,"
and that quote goes with this book
more than anything.
The Liars, the friends—they're all filthy rich and are used to luxury and to all of the best in the world. Once you open the hardcover edition of the book, you will spot a family tree showing the inheritances of everyone. DAMN, THEY'RE ALL RELATED AND GET TO LIVE ON THAT GORGEOUS ISLAND DURING THE SUMMER. *cries* Okay, so that may seem like your annual perfect vacation that you have in mind,
but you may not want to live with the actual people on the island.
You may think that these characters have the perfect posh life, but their personalities sure aren't. You see, our Liars here are: Cadence, Mirren, Gat and Johnny. These people each have their own secrets but somehow they're and have always been together? That's the question that kept floating in my mind but I guess in order to read this book you'll have to deal with the questions of the unnecessary weirdo friendship here. They're spoiled brats and each of them got on my nerves in their own little-posh-way.
With a mix of different genres and writing styles (poetic to regular narrative-format) I see this as something new and different introduced to the YA fiction world. With about half a year after its first printing, this has won the hearts of many of my bloggy friends and of course, many starred reviews and awards—including the 2014 Goodreads Choice Awards. I don't know about you, but that totally must mean something. Though, I didn't see it as that amazing compared to the opinions and expressions faced by other reviewers that I personally know. What did they seem to have seen differently than I, in a positive way?
The characters. Basing this off of my past experiences, I can tell you that Lockhart has a heart of gold when forming relatable characters. In her 'Ruby Oliver' series, I found her protagonist, Ruby, to explain the thoughts of every teenager out there someway. Ruby was relatable and I adored her to death, still remembering her quirky ways 5 years later. But these guys?—I sure won't remember them, even in a few weeks' time.
I can't really explain who was the main character and who wasn't, as Lockhart paid special attention to each of the Liars. But Cadence is the one who's story was the problem. I mean, when we find out what actually happened, you can tell that it has to do with someone on the island and that there's a meaning behind all of this. Add cliffhangers and plot twists and you've got this book.
"We should not let family fall apart. We should not accept an evil we can change. We would stand up against it, would we not? Yes. We should. We would be heroes, even."
Deep? Deep. Coming of age? Coming of age. Unexpectedly we got a flash of realism around and around, but Lockhart didn't take it to that undeniably crazy point that most authors with psychological fiction do with. The ending of this was something that you can easily stress over with and wonder if it happens in reality. The plot did need improvement as this was just a healing story where Cadence was trying to figure out what happened and who she is in, though it's the book you'll spend an evening with and have a 50/50 chance to become captured with and into. Detectives won't even be able to solve this stuff.
Spend an evening reading this because it's not too easy to set aside, let having to get your mind to focus on something else for awhile. E. Lockhart did a splendid job with her newest comeback, bringing us into a huge mystery/thriller, with friendship and questions that will still haunt your mind today. Throw in some unrelated characters and a messy plot, and this is the total outcome you get—a mystery that you'd see on the news, indeed.