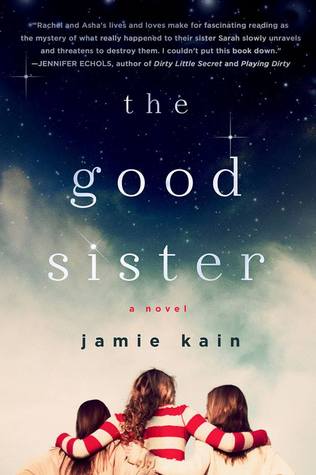 The Good Sister,
by
Jamie Kain
Publication:
October 7, 2014, by St. Martin's Griffin
Genre:
Young Adult Fiction, Contemporary, Romance
Pages:
304
Format:
Physical Review Copy
Source:
Publisher
Rating:
The Kinsey sisters live in an unconventional world. Their parents are former flower-children who still don't believe in rules. Their small, Northern California town is filled with free spirits and damaged souls seeking refuge from the real world. Without the anchor of authority, the three girls are adrift and have only each other to rely on.




Rachel is wild. Asha is lost. Sarah, the good sister, is the glue that holds them together. But the forces of a mysterious fate have taken Sarah's life in a sudden and puzzling accident, sending her already fractured family into a tailspin of grief and confusion. Asha has questions. Rachel has secrets. And Sarah, waking up in the afterlife, must piece together how she got there.
Before I say anything else, I must admit that this book
is so gorgeous.
The cover makes this whole book look like it's a remnant of
My Sister's Keeper.
And in a way, it kind of was like that—that dealt with cancer, friendship and loss, as well as death, all at the same time. Jodi Picoult would definitely approve of this great book. Also,
who doesn't want to read about sisterhood,
especially since the three sisters were and dealt with the good, the bad, the ugly and the happiness.
The Good Sister was a good read. I mean, I won't say that it's my favourite or least favourite book in the world, but I'll probably forget about a lot of what happened during the read in a couple of weeks, since I've read a lot much like it. Though, the idea of sisterhood and one watching over the other two after her death of cancer seemed both old and new to me.
The three sisters: Asha, Rachel and Sarah Kinsey have had their ups and downs, but have always felt connected to each other in many ways. They all have three whole different personalities and aren't afraid to show it to those whom they love. The thing here is, Sarah died but we don't find out until the end on the how. Yes, she did have cancer and it did come back a few times, but Sarah did mention that her illness wasn't the cause. At first when we meet her, she has no clue what has happened and how, or where she is. As we keep skipping between the different POVs of the girls, we soon find out that she's in the afterlife and is still trying to somehow adapt.
But her sisters knew what happened, and one of them (won't mention who) knows how. I guess I can say that this was a book written to show the past, the present, and the future mixed in together and to show the recovery of the girls after Sarah's death—including Sarah's recovery as well. That was deep.
"Death has cut clean through my life, so that now I am no longer Sarah. I am the bloodred tulip tilting in the wind, I am the brown-black earth of a thousand years, I am the welcome rain on a parched day. I am a grain of sand, and I am the entire ocean. I am the beginning and end of me."
Jamie Kain is a fabulous author. You'd think that when an author deals with death—that it is horrifying and depressing and distressing, but it's actually
dealt with frequently and is symbolized.
She gave us a different view on it and I guess that you can say that I am positively happy with this aspect.
As her writing was fabulous and deep, the thing was that I lost captivation from time to time. I normally would list a specific point of the book where I lost track of what was going on, but I felt like I frequently was getting bored and weirded out.
More bizazz? More feels?
Maybe it was the way the feelings hit me and I didn't understand what happened to Sarah.
As you can probably guess, this zoomed in and out from different perspectives and points of time; from past to present and from future to past. For future, I mean what the characters are planning to do with themselves and their wishes for themselves and what they'd like to accomplish. And at the same, we got to know the characters much more as we found out the past events.
My favourite sister had to be Asha, as she was the rebel and never quite knew what had actually happened. And really,
she had found the best love of her life
at the same time.
This had a lot missing on what it actually could've became, but I'm really glad of the outcome as it was better than many other books of this genre that I've overcame in the past. This was an enjoyable read that got me thinking about existence and the afterlife, as well as sisterhood and the wondrous of that aspect. It'll go either way for you.
*A physical review copy was provided by the publisher in exchange for an honest review. Thank you so much!*