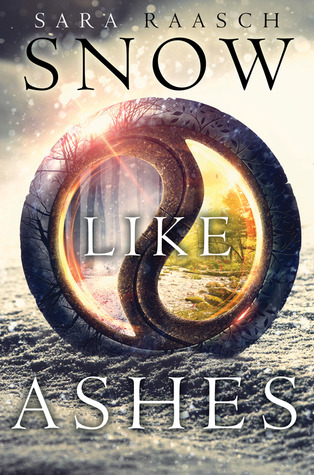 Snow Like Ashes (Snow Like Ashes #1),
by
Sara Raasch
Published On:
October 14, 2014, by Balzer and Bray
Genre:
Young Adult Fiction, Fantasy, Romance
Pages:
422
Source:
Purchased
Format:
Hardcover
Rating:
A heartbroken girl. A fierce warrior. A hero in the making.




Sixteen years ago the Kingdom of Winter was conquered and its citizens enslaved, leaving them without magic or a monarch. Now, the Winterians' only hope for freedom is the eight survivors who managed to escape, and who have been waiting for the opportunity to steal back Winter's magic and rebuild the kingdom ever since.




Orphaned as an infant during Winter's defeat, Meira has lived her whole life as a refugee, raised by the Winterians' general, Sir. Training to be a warrior—and desperately in love with her best friend, and future king, Mather — she would do anything to help her kingdom rise to power again.




So when scouts discover the location of the ancient locket that can restore Winter's magic, Meira decides to go after it herself. Finally, she's scaling towers, fighting enemy soldiers, and serving her kingdom just as she's always dreamed she would. But the mission doesn't go as planned, and Meira soon finds herself thrust into a world of evil magic and dangerous politics – and ultimately comes to realize that her destiny is not, never has been, her own.
Snow Like Ashes, Snow Like Ashes, this is the book you've got to read. YES. What I can honestly tell you is that the hype is clear and it's crazy. After reading ARC reviews of this one months before it actually was released in October 2014, I decided to frightfully add this into my TBR list. And then for Christmas, I asked for it since all of my blog friends, you guys, adored it. Why be the downer and the grumpy person and not go for a chance of high fantasy, one of my favourite new genres?
This was a good book. I liked it, but it didn't captivate me to the best ability that a book can do to me. I've been through better experiences and have read better books that are similar in the aspect to this one, but it was pretty enjoyable and took me out of Earth's reality for a little while.
But really, Raasch does create awesome characters. I mean, as a whole, these guys couldn't possibly be any more kickass. It was like this book was written for their kickass-ilty. Sure, after kicking some of the instalove out of the way, we've got the awesomeness in our hands. Meira is really comparing to be the next Celaena from TOG, though Cel became my favourite heroine after the first book.
"Magic. The word flies through my mind like it was there all along, a quiet pulse of knowledge that told me everything felt off. Wrong. And it was wrong, all of it, because the soldier drops his arms and pulls his shoulders up straight, his body morphing before me."
It's so amazing to read a debut novel coming from an author who's always dreamt of this illusion. It practically puts my heart on a pan and stir fries it with caramel. (Wow, that was deep.) Raasch's writing shook me, threw me off the wall a couple times, but it mostly got me devoured and happy. This was a good high fantasy.
This wasn't a five star novel, or a four star, but it was enjoyable. Isn't that practically all we're looking for when coming to read and review (in the future) a book? Then yes, why aren't I giving this five stars just for the heck and sake of it since I enjoyed it? There were tweaks that weren't for me, and I felt like I've seen this story somewhere else.
For a second, just take a look at the caption that is stated on the back of the cover: "A heartbroken girl. A fierce warrior. A hero in the making. Can Meira save a world she's never truly known?" This totally gives this book an image of something cheap and a total knockoff. *silently barfs in the corner* It sounds like a knockoff of Throne of Glass, with less fighting and more romance-focused stuff. The Kingdom of Winter was a gorgeous place to read about, actually, and learning and building my mind in this futuristically historic (you know what I mean) world was really cool. Winterians? You'd expect these people to live in the sake of a blizzard 24/7. But this was like Frozen, with some TOG and other hints and specks of the other fantasy books that we've come to love today.
Meira doesn't know her place in the world. *rolls eyes* She's been orphaned and left behind where she has decided to come to fight the enemy and serve the king. Doesn't this sound like something we've already heard of? And then there are also two guys who are pretty cool and chill with each other. Ugh.
Like if I didn't love Throne of Glass and high fantasy so much, then I'd probably would've given this a much lower rating. So we should all be thankful here that I was nice enough to spare this a three. For me, three is something okay, and enjoyed with. I may or may not grab the sequel in the near future.
When I read this two weeks ago, my copy has just been in my shelf for a few moments, and I just needed to read this out of all of my Christmas newbies. I think that the hype has gone out of control and I just wanted to see my opinion. Turns out, I wish I could've given this a higher one, though. It's SO BEAUTIFUL, THOUGH. *pets cover*
As I began reading until about the halfway mark, I was really intrigued. The action was melted perfectly into my mind and I really began to like the characters and some ships did come on. But after an event I will not speak about, I was lost. I wasn't confused or anything like that in an aspect, but I just kind of sat there shrugging. It went to a slow-paced mode, and there was too much info-dumping and wild details. WE DIDN'T NEED THAT.
"You want to marry Theron," he says again, and everything in his body sags. "You don't— Want me. His unspoken words drape over me, weighing me down and down until I think I might crumple onto the straw-covered floor."
Huh. This book
could've had it all...
*sings Adele in head* But it didn't. Raasch was a fantastic author and I really liked her powerful writing, though I am not really a huge lover of this one. It lacked depth and realness through the plot, and there was far too much info-dumping.
I was the definite black sheep.
Was I missing something from this?