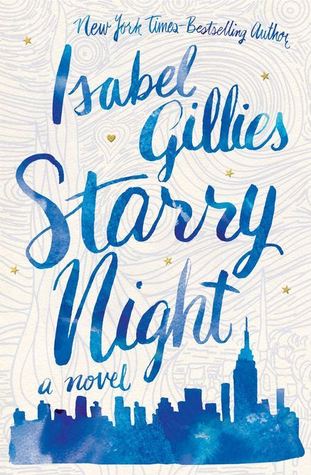 Starry Night,
by
Isabel Gillies
Publication:
September 2, 2014, by Farrar, Straus and Giroux
Genre:
Young Adult Fiction, Contemporary, Romance
Pages:
336
Format:
Hardcover
Source:
Purchased
Rating:
½
Sometimes one night can change everything. On this particular night, Wren and her three best friends are attending a black-tie party at the Metropolitan Museum of Art to celebrate the opening of a major exhibit curated by her father. An enormous wind blasts through the city, making everyone feel that something unexpected and perhaps wonderful will happen. And for Wren, that something wonderful is Nolan. With his root-beer-brown Michelangelo eyes, Nolan changes the way Wren's heart beats. In Isabel Gillies's Starry Night, suddenly everything is different. Nothing makes sense except for this boy. What happens to your life when everything changes, even your heart? How much do you give up? How much do you keep?
Books that make your heart feel guilty of wanting more and that fluttering feeling with cuteness come and go. No for real—
they simply just come once in a while, and never seem to go.
Starry Night
left me with a glitter-filled mind, where I was wishing for a romance so artistic that van Gogh would've given a huge approval for. Gillies did this so amazingly that I kept searching for more in a gorgeous majestic sunshine painting.
After reading, I feel like everything in my life now relates to art. Yeah, there's always many cheesy books where the protagonist is an artist or has those huge dreams, but this one worked. The best thing was that this wasn't picture perfect and it showed that it isn't that easy to find that kind of relationship, yet it isn't impossible because things work out to be that way a ton of times, especially after looking at the ending, which left me shocked and shredded into pieces.
"I don't think you fall in love for the first time until something—or someone—feels dangerous. I don't mean dangerous like going to jail, I guess I mean just different, really different."
You can say that the protagonist here, Wren, is clueless in life and love. But the best thing is that she's searching for it. It wasn't cheesy where she wasn't expecting the love and it suddenly
just came to her,
it was meant to be at the right moment where her and Nolan were both expecting the same kind of thing from each other. The way they meet was unexpected and everyone was shipping them so hard, including the family members.
It was all perfect.
I guess compared to the really low ratings, I kept a total positive attitude towards this. In the end, I liked it much more than I expected, and sure there were some mishaps and weak things going on with the plot from the beginning towards the end of the middle, I can definitely recommend it. When I started reading, I was hoping for the best as I saw the low ratings where everyone was giving this a 2 star. The rating on Goodreads is 2.96 for goodness sake's! Why? I guess I can't really figure that out too well since I did like it by the end.
The plot of this was one of the problems. The beginning to middle was weak, as I had trouble getting interested in what was going on. The writing seemed weak and dull and I lost control of what I was trying to get from the message. But thankfully, Nolan and Wren's power stayed with me. Their romance was gorgeous, and I never had enough. THEY'RE SO CUTE AND THEN UGH ISABEL GILLIES KILLED ME. I'm not going to note what's going to happen, though it did shock me to the bones and I'm still left shaking.
With a gorgeous romance and characters, I have to say that Isabel Gillies has done a job well done with writing a novel that artists will see the deepness in. I can't stop thinking about it and I'm so excited to see more from the author. NREN FOREVER! #SHIP