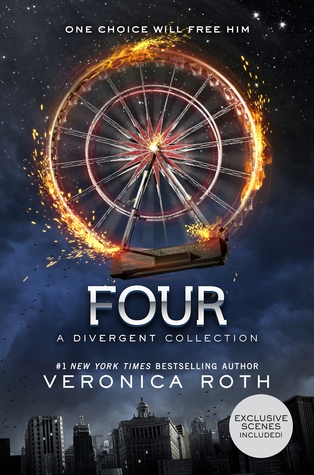 Four (Divergent #0.1-0.4),
by
Veronica Roth
Publication:
July 8, 2014, by HarperCollins
Genre:
Young Adult Fiction, Dystopian, Romance
Pages:
285
Format:
Hardcover
Source:
Purchased
Rating:
Two years before Beatrice Prior made her choice, the sixteen-year-old son of Abnegation's faction leader did the same. Tobias's transfer to Dauntless is a chance to begin again. Here, he will not be called the name his parents gave him. Here, he will not let fear turn him into a cowering child.




Newly christened "Four," he discovers during initiation that he will succeed in Dauntless. Initiation is only the beginning, though; Four must claim his place in the Dauntless hierarchy. His decisions will affect future initiates as well as uncover secrets that could threaten his own future—and the future of the entire faction system.




Two years later, Four is poised to take action, but the course is still unclear. The first new initiate who jumps into the net might change all that. With her, the way to righting their world might become clear. With her, it might become possible to be Tobias once again.




From #1 New York Times bestselling author Veronica Roth comes a companion volume to the worldwide bestselling DIVERGENT series, told from the per-spective of the immensely popular character Tobias. The four pieces included here—THE TRANSFER, THE INITIATE, THE SON, and THE TRAITOR—plus three additional exclusive scenes, give readers an electrifying glimpse into the history and heart of Tobias, and set the stage for the epic saga of the DIVERGENT trilogy.
When I picture the
Divergent
trilogy, the gorgeous Four comes to mind,
always.
I remember when I read the first book in the trilogy and I always wondered what Four was thinking at the time when he met Tris, or when he viewed her tests and when she got her tattoo and the kissing scene. Obviously, Roth couldn't have brought everything back to life because that would've been
a total repeat.
Four: A Divergent Collection
was utterly fabulous, and Roth gave us just the right amount (although I kind of wished for a little more) of Four and Tris and a bunch of the favourite characters of mine who introduced me to dystopia, my favourite genre.
3 years ago, I came across Divergent in a bookstore where I noticed many copies of it sitting in a pile beside the bestseller's section. I picked it up, sat down on the beanbag, and drowned into this gorgeous world. I read about 20 pages and was addicted—and bought it. This is one of my favourite series, and after Allegiant, I couldn't let it go. I need more from Roth, and this was something perfect to quickly indulge on.
This is your typical anthology—with not-so typical characters. (Ahem, Four!) We've got four short stories with a few extra scenes with Tris that we all wanted to read from the beginning. I can't really say much about the stories themselves, but they were all intriguing and I actually read the first story beforehand—The Traitor. Together, I can't really say that each story had its own separate rating coming from me, thus it was more like a full book since it went in order from Four's earliest Dauntless moments to where he met Tris. The whole thing deserved its 4 stars pretty well.
I am the biggest fan of this idea—I've always been since I found out that this was going to be released early last year. I truly thought that the series was over for good and we'd hear no more word after the last and final book last year but like I'm not sure what's going to be happening to the future of Roth's writing. The concept of this was so fascinating, as we never have found out what actually happened to Four in the past, all with his father and his fears and how he got involved with Tori.
"The alcohol is still burning my throat when the tattoo needle touches my ribs, and I wince, but somehow I don't mind the pain. I relish it."
This was really short—with only 285 pages in the hardcover edition that I have. Although moments of the plot were a little out of hand and repetitive since we've already heard most of the story many times before.
I respect that, but I needed a few moments of 'new.'
And for those moments when we had Tris Prior back with us, I teared up since I haven't had her as my favourite protagonist for a long time after finishing the last book.
This one has been in my bookshelf for over half a year, and I'm so juggled onto why I didn't get to read it sooner—which is always the case. This book was captivating, and gave me a better, hotter (and more sexier) view on the man that captivated me from the start, as he's always been quiet and kept to himself. Tris never even knew three-quarters of these things and stories about him!