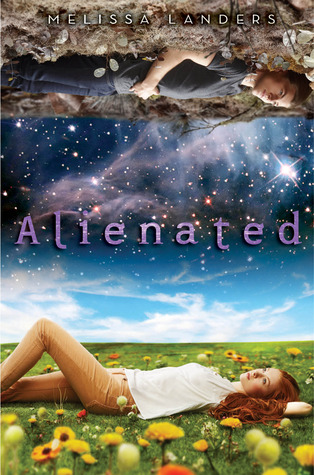 Alienated (Alienated #1),
by Melissa Landers
Genre: Young Adult Fiction, Aliens, Science-Fiction, Romance
Rating: 4.5/5 stars
Publication: February 4, 2014, by Disney-Hyperion
Format: ebook
Goodreads Summary:
Two years ago, the aliens made contact. Now Cara Sweeney is going to be sharing a bathroom with one of them.
Handpicked to host the first-ever L'eihr exchange student, Cara thinks her future is set. Not only does she get a free ride to her dream college, she'll have inside information about the mysterious L'eihrs that every journalist would kill for. Cara's blog following is about to skyrocket.
Still, Cara isn't sure what to think when she meets Aelyx. Humans and L'eihrs have nearly identical DNA, but cold, infuriatingly brilliant Aelyx couldn't seem more alien. She's certain about one thing, though: no human boy is this good-looking.
But when Cara's classmates get swept up by anti-L'eihr paranoia, Midtown High School suddenly isn't safe anymore. Threatening notes appear in Cara's locker, and a police officer has to escort her and Aelyx to class.
Cara finds support in the last person she expected. She realizes that Aelyx isn't just her only friend; she's fallen hard for him. But Aelyx has been hiding the truth about the purpose of his exchange, and its potentially deadly consequences. Soon Cara will be in for the fight of her life—not just for herself and the boy she loves, but for the future of her planet.
Review:
Seeing the cover for this book and reading the summary back in 2013 just made me swoon and eager to read it! Aliens? Some hints of originality mixed with romance? Hello, beautiful, come to momma.
First of all, thanks to everyone who joined the
Alienated Readalong Group
on Goodreads. Without
you guys,
I wouldn't be reading this right now because of my crazy huge TBR pile. But for this book, I had to set the other ones waiting aside. Tee hee.
During the readalong, I was one of the people who started reading this late because of my busy schedule and I ended up seeing that some people finishing it before me. (Yes, that's you YA Bookaholic and Shanice, LOL.) And all around the world, there has been mixed reviews on this one and that's what frightened me the most because I really wanted to adore this one. One of my reads from last week also focused on aliens and it was very disappointed-- so I didn't want the concept of aliens to wear off of me.
Do you ever wish to read one of those books that are absolutely perfect and were written spectacularly? Well, then you've come to the right place. Alienated had a little teensy something missing from it, but other than that, you're in for a hell of a fun ride over here, if you feel the same way about books as I do.
Cara Sweeney is nominated for valedictorian, has been on the school council for many years, is intelligent, loved by everyone and has a hot boyfriend. What else does she need? When her school principal announces that she is in for an opportunity of a lifetime-- an opportunity that no one has ever done before and has to deal with the L'eihr aliens, she is quickly anticipating the arrival of Aelyx, the "exchange student" who will come to live with Cara and her family for a year, before Cara will head out to L'eihr and will witness and live in a completely different environment. But, little does she know, everyone is going to begin to pick on her and Aelyx, and against the race of the L'eihrs. Aelyx is hiding something, and Cara knows it has to do with her.
Something like this has never been written about before. An alien exchange student? An alien coming to Earth to live? It's usually the whole other way around, but Melissa Landers has decided to give us a little twist on things, and add in crazy assumptions made by the readers, ships, did I mention ships, romance, and almost anything else you could imagine... Except flying donuts, and not to mention a few other things. The idea of this book is just beautiful and wonderful, and it's originality really causes the reader to want more; especially because of the dystopian YA impact these days. Too many books are ending up to be like others, and it's getting a little annoying for us readers. This is a fresh and new bright idea that is sure to craze readers for years to come.
The book was very fast-paced from the start, despite some moments where I felt that I was longing for something more. Throughout the middle, it was all about saving Aelyx and Cara from the public. I kept on wondering what the heck would happen to them in the end, and I sure knew that someone would die. Then, the action began and everything changed. You get that feeling like you know what's going to happen, but then it doesn't. The alien talk and history is just so fascinating and the relationship that Landers created with the readers was just unreachable for many other authors. She has created some sort of perfection.
The way Landers created the characters was just heavenly. The aliens weren't just some foreign strange creatures; they had meaning. Their references, language, culture, food, love for each other was just no doubting stunning. She made them so real, and you want to meet them in reality.
Who can't forget the flatbread scene? (Only the peeps who've read the book will understand my stupidity here.)
In the beginning, I had some crazy thoughts in my head that kept forcing me to think that Cara was a selfish brat who only cared about winning and had to be the best. Okay, it kind of was true, but in some ways, she did it to become a better person. I really feel that Aelyx helped change her and her thinking a lot. In the end, she became a kick-ass rebel who wasn't afraid to show her stuff. I just imagined her boxing. x) To me, she was a really relatable MC who really showed that she can be a different person through love.
Aelyx? My baby?
I love you, boyfriend. But cut off that ponytail, I don't want to imagine you being macho and all that. I like you as my sympathetic shy mysterious man. <3 needed.="" no="" other="" p="" words="">
I have to say that the romance was very fast-paced, but I loved it. The two Caelyx scenes just made me swoon and die and fall in love with the characters all over again! This is what I imagine Cara's dad saying after he caught them making out:
Well overall, this was a fantastic book. Definitely one of my 2014 favourites. It's an awesome book to start July off with but is a book to read any time of the year, during any mood you're going through. (Note: You will laugh a bunch of times.) It's a cute, funny, mysterious read that everyone should pick up!
Melissa Landers, I really want this:
3>