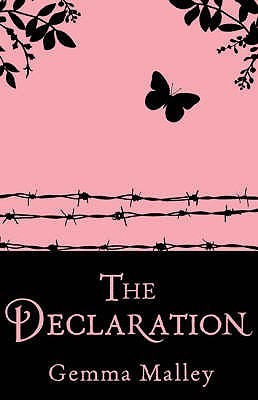 The Declaration (The Declaration #1),
by Gemma Malley
Genre: Young Adult Fiction, Dystopia, Sci-fi, Romance, Mystery
Rating: 2/5 stars
Publication: September 3, 2007, by Bloomsbury
Format: Hardcover Edition (Borrowed)
Summary:
It's the year 2140 and Anna shouldn't be alive. Nor should any of the children she lives with at Grange Hall. The facility is full of kids like her, kids whose parents chose to recklessly abuse Mother Nature and have children despite a law forbidding them from doing so as long as they took longevity drugs. To pay back her parents' debt to Mother Nature, Anna will have to work for the rest of her life. But then Peter appears at the hall, and he tells a very different story about the world outside of the Grange. Peter begs Anna to escape Grange Hall, and to claim a life for herself outside its bleak walls. But even if they get out, they still have to make their way to London, to Anna's parents, and to an underground movement that's determined to bring back children and rid the world of longevity drugs.
Review:
"She opened the book and began to read. As she worked her way through the first few pages, her eyes widened with indignation. But she couldn't read it all now."
Well, here's another book that was recommended to me that really ended up sucking.
I really expected this book to be good--especially because it's a dystopia science-fiction romance. It definitely sounded like my type of book that I could've end up loving. And for that...
It's the future, and in 2140 in a post-apocalyptic world, Anna realizes that she shouldn't be alive. Where she lives in Grange Hall, all of the kids are like her, and if she escapes, she will be put down like animals in the pound. Anna has to work for the rest of her life to pay debt to Mother Nature (what the heck) and when Peter, who is just like her, comes into Grange Hall, he has a lot to say about the outside world, and Anna wants to get out to meet her parents.
I understand that this was published a long time ago. (7 years is a long time when talking about ideas of books revolving.) But the idea wasn't anything special. In fact, I kind of thought it to be immature and boring. The whole book practically was.
In the beginning of the book and story, I was bored. I was beginning to get DNF thoughts into my head, but I kept on going because I trust recommendations and I didn't want to hate this book. Through the middle, it was great. And then it went totally downhill to the end. The ending sucked and the beginning sucked. Now that's kind of rude to do to us readers.
The story wasn't anything special. To classify the whole book itself, I'd say that it's just an under-classified dystopia sci-fi romance. That's all. It tried to build up the potential to become something amazing, but it just couldn't build itself to get up there. But from what it looks like, this book was just the beginning of dystopias and the revolution of the genre. If the author published this today, then that's a total different story we're talking about here.
I thought the characters were okay. Anna was just a blob of nothingness and Peter was bearable. But I wouldn't classify them to be a good couple. They were both too plain-Jane. I don't have much to say about them because they both weren't any special, but they're the type of characters that you can read about without trying to stick your head out the window for air.
Surprisingly, I completed this book. But I ended up skimming through the end because I was barely interested in what would happen to the characters. So don't ask me if I plan on reading the sequel, because you already know the answer. x) But from what I found the ending to be, it was just like the rest of the book, the same old nothingness. Nevertheless, the cover of this book (at least the one I read from) wasn't beautiful for the eyes either.
Hah, if you're looking for a boring dystopia read with a weird world-development, then this book is absolutely for you!