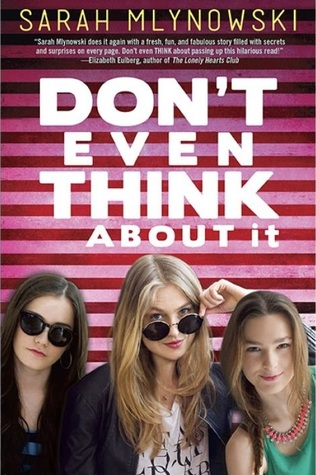 Don't Even Think About It (Don't Even Think About It #1),
by Sarah Mlynowski
Genre: Young Adult Fiction, Contemporary, Romance, Fantasy
Rating: 4/5 stars
Publication: March 11, 2014, by Delacorte Press
Format: Hardcover Edition
Goodreads Summary:
We weren't always like this. We used to be average New York City high school sophomores. Until our homeroom went for flu shots. We were prepared for some side effects. Maybe a headache. Maybe a sore arm. We definitely didn't expect to get telepathic powers. But suddenly we could hear what everyone was thinking. Our friends. Our parents. Our crushes. Now we all know that Tess is in love with her best friend, Teddy. That Mackenzie cheated on Cooper. That, um, Nurse Carmichael used to be a stripper.
Since we've kept our freakish skill a secret, we can sit next to the class brainiac and ace our tests. We can dump our boyfriends right before they dump us. We know what our friends really think of our jeans, our breath, our new bangs. We always know what's coming. Some of us will thrive. Some of us will crack. None of us will ever be the same.
So stop obsessing about your ex. We're always listening.
Review:
"That's our story.
How we became a we.
And that's what we are these day. A we.
When you're a group that can hear each other's thoughts, the line between I and We gets kind of blurry."
Sarah Mlynowski has always been the literature master of contemporary mixed with paranormalcy and fantasy, at least with little its and bits of fantasy mixed with pretty romance. Don't Even Think About It has a different feel to it, despite the same sort of setting and prettiness involved.
I expected a petty read. Something with less importance and a no-plot contemporary. But instead, we got something completely different. Overall, this was a witty sarcastic read for every teen. If you're a beginner with contemporaries, then you should really begin with this one. It gives us a different feel compared to others like Sarah Dessen. This is a very complex chick-lit with various signs of a strong plot forming.
The students of homeroom class 10B go get the flu shot. Some don't even care about it, and others are afraid of the sudden pain and outcome. One by one, every comes out there like nothing has happened. They all expected various side effects, like pain in the arm or a headache. But instead, many of them scored telepathy powers that gave them the ability to read the minds of the people around them, and some things are definitely not wanted to be heard. One by one, the rest of the students from that class begin to get the powers, especially at random times. There are many secrets that aren't wanted to be heard, and everyone slowly has to deal with it, and not think about the things that people don't want others to hear about, because it just might ruin their minds. So when will that weird side effect go away, and how quickly? Because everyone wants a normal life again.
Sarah Mlynowski really puts us in a deep situation that gets us thinking. When some asks us, "What superpower would you choose to have," many people answer with the ability to mind read. But turns out, telepathy isn't everything we've always wanted, especially if others can do it, too. It might seem like an unreal fantasy that will never in a million years occur, but on the other hand, it was a very fun read.
This author is the master of drama. Like drama is everywhere and screaming and fighting is involved. So, please take a precaution if you hate that sort of stuff.
But since I'm a teen, I love teen drama. It can be so hilarious to watch/read and it definitely gives the book an extra amount of stars for the rating. It gives the plot a sense and an idea. So yes, telepathy did cause a major problem for the characters, and that includes hearing that your girlfriend was cheating on you during the summer when you were at camp. Shucks.
The plot was very intriguing from the beginning. It definitely had a different premise that shocked me. It was absolutely perfect with the right amount of everything.
The characters really showed a great amount of teamwork throughout the whole book. High-five to all of them! Mackenzie was my favourite (she was hilarious) but they all hold a special place in my heart. YES, also you, BJ!
The only thing that kind of left me out of giving this a perfect 5 stars was that something large was missing from the whole book. I don't know what it is, but all I can say is that I've read many (MANY) better books. So go figure.
In conclusion, this book was great, awesome maybe. It was a perfect read for a nice summer day on the hammock! You'll love this if you loved anything by Lauren Morrill!