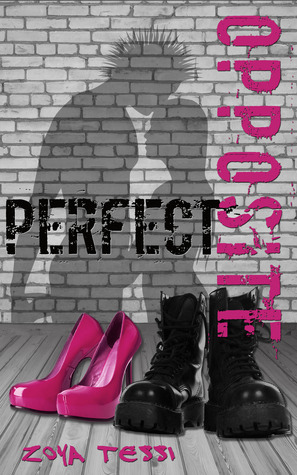 Perfect Opposite,
by Zoya Tessi
Genre: New Adult, Contemporary, Romance, Chick-lit
Rating: 2.5/5 stars
Publication: January 1, 2014, by Zoya Tessi
Format: ebook
Goodreads Summary:
Their wishes were simple and modest. Fate had other things in store though, and she can be a real bitch sometimes.
All he wanted was to get the job done and somehow to endure those long months playing nanny to a spoiled little rich girl. Without strangling her with his bare hands in the process. Well, it is going to be much easier said than done.
All she wanted was to escape the past and live like any other nineteen-year-old girl. Her plan definitely didn't include the arrogant, tattooed savage, with his awful mohawk hair and lack of social graces, whose only mission was to stick real close and mess up her life.
But, people aren't always what they seem to be, are they?
*Review copy provided by Xpresso Book Tours in exchange for an honest review.*
"Unfortunately, the term 'bad' took on a whole new dimension a little later when I found myself sititng at the kitchen table, examining the food in my bowl."
Now that I've had a few experiences with books found in the 'New Adult' genre, I have found that the outcome can either be really good or really bad. That is the possibility to happen with any book, but it's always a 50/50 chance with these guys. As I predicted, this was one of the ones in between, but more closer to the "bad" side.
This book started off as nothing special. I did have some thoughts to not finish it, but as I went on, it got a little better, and then worsened. The plot was the main problem because it was predictable, and it basically wasn't even there.
Mystery? I don't see it. This book is supposed to be classified as a mystery novel, but I didn't strongly see it. Sure, there was some bits and pieces of suspense, but nothing unbelievable. Every book is almost the same.
So this is about some snobby bitch named Sasha, who is filthy rich. And so is her father. She's nineteen, by the way, and acts like she's in her thirties. She clubs, goes to parties, whatever you can think of that's scandalous. Then her father makes sure that she has a bodyguard with her at all times, and well, he's a snob as well. At first, they can't stand each other, but as their "relationship grows," they fall in love.
That's all what this book really was, and some tiny bits of action when Alex fights some guys, including Sasha's ex because he won't let anyone touch his "client." And then, Alex is so "mysterious" but dreamy at the same time, and she's going to try and find out who he really is.
So I did have some problems with this book. Some major, some minor. In the beginning, it sucked. The middle was okay, and the ending sucked as well. Something really made me want to stay, and I guess it was Sasha's bitchiness, because I felt "in the mood" for that type of behaviour. On a rainy day, I'd just smack the heck out of that girl and walk away. Thankfully, the weather was nice and sunny, hot.
I guess if you're looking for a no-plot nothing special story, then this is for you. It's not 100% worthy to read, but it has its positives.
So.. the characters basically made up for the downer parts of the book. Sasha was a total bitch, but at the same time, I loved her. She had her moments when she was smart, snarky and totally witty. I loved her as a protagonist and reading her POV was much better than being bored. She kept me up and going, and made up for the bad parts... a little at least.
Alex was okay. I just pictured him as a macho idiot, but he was funny. I was in the mood for a funny read, so he and Sasha both kept me going. I felt like he verbally abused her a lot (haha) but together, they made a real cute couple. Automatic ship.
By the end, I was upset with this book because I wanted it to be better. But in the inside, I knew that it wouldn't please me too much. Overall, this was just an easy, fun read, if you're looking for something like that. Recommended, sure, but not for everyone.