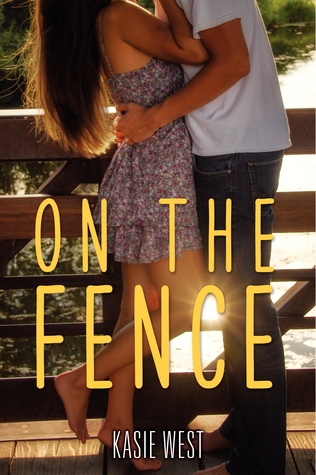 On the Fence,
by Kasie West
Genre: Young Adult Fiction, Romance, Contemporary
Rating: 4/5 stars
Publication: July 1, 2014, by HarperTeen
Format: ebook
Goodreads Summary:
She's a tomboy. He's the boy next door…
Charlie Reynolds can outrun, outscore, and outwit every boy she knows. But when it comes to being a girl, Charlie doesn't know the first thing about anything. So when she starts working at a chichi boutique to pay off a speeding ticket, she finds herself in a strange new world. To cope with the stress of her new reality, Charlie takes to spending nights chatting with her neighbor Braden through the fence between their yards. As she grows to depend on their nightly Fence Chats, she realizes she's got a bigger problem than speeding tickets-she's falling for Braden. She knows what it means to go for the win, but if spilling her secret means losing him for good, the stakes just got too high.
Fun, original, and endearing, On the Fence is a romantic comedy about finding yourself and finding love where you least expect.
"You're so beautiful." My cheeks heated. "Aren't we supposed to do this at the fence?" "No. I don't want this to be in our alternate reality. I want this to be in our real one."
Kasie West is a definite favourite author of mine. She writes contemporary like it's a sundae--sweet, beautiful and daring. I've been looking forward to read On the Fence for over a year now, and I really think that the summertime is the best time to read it.
First of all, that cover absolutely captivates me. It's so beautiful!
When looking at it, it looks like the perfect road-trip read. I definitely recommend taking this on your road-trip to who-knows-where! *giggles*
Charlie is your average girl tomboy. She can never imagine setting foot in a dress or pair of sandals and wearing makeup. She plays sports for a living, and she knows nothing about beauty and being a true girl. When she scores herself a pretty large speeding ticket, her dad forces her to get a job. She finds one at a boutique, and well from there, everything changes. She gets used to wearing makeup and dresses and she suddenly changes. But there's one person who she knows will love her for her boyish qualities, and that's her neighbour, Braden. Next thing you know it, she begins to fall for the guy who she can have conversations on the fence with in the middle of night. But she has a secret, and that can seriously lose him for good, because she hasn't gained his trust.
I love when book heroines are tomboys. We are so stereotypical these days, and always picture our girl-protagonists with picture-perfect hair and makeup, natural beauty, and a badass attitude at the same time. Charlie was a definite unique person, and I loved her and her personality. Inside, she hid the stereotypes and was still a girl no matter what. She showed that she's unique and can still love. That's the type of girl I like. She was an independent person, and I seriously praise and bow down to Kasie West for creating an awesome character like her.
The concept of this was okay. It was kind of cliche at times, especially with the fact that Charlie was "hiding a secret" and was "trying to find who she was." Kasie West really could've done better with that, just like she did with The Distance Between Us. Speaking of that, WE HAD AN ENCOUNTER WITH XAVIER AND CAYMEN THERE.
The plot was awesome! I love boy-next-door encounters and stories, and this was the perfect example. For once, the title actually goes with the book. (Because a lot of times, I'm always clueless.) I was captivated by the start because of Charlie's voice, and I recommend this if you like protagonists with awesome voices and tough stories behind them.
The secret that Charlie was keeping behind was really dark, actually. This may seem like your average teen contemporary, but the secret that Charlie kept really turned things around in the end, and really shows how important love is to characters and to everyone.
I didn't love Braden. KILL ME, OKAY? Something about him was strange and peculiar, but it's not like I hated him or anything. I liked him, he was alright, but weird at the same time. He was keeping a secret as well, and it was all predictable with a happy ending. *waves hands magically*
But either way, I FANGIRLED LIKE HELL. I kept thinking that something was wrong with me because I felt like my heart was going to explode of happiness. Yeah, so I did adore the romance.
The ending wasn't the best because it was predictable, but I liked it and the whole book as well. It was great and fun, and the perfect summer read. It wasn't crying-worthy, but something to definitely remember. Recommended? Absolutely.