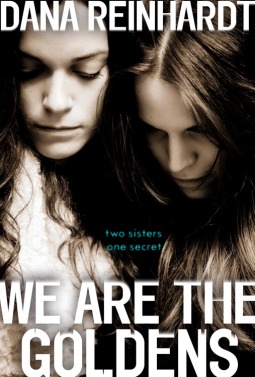 We Are The Goldens,
by Dana Reinhardt
Genre: Young Adult Fiction, Contemporary, Romance, Mystery
Rating: 4/5 stars
Publication: May 27, 2014, by Wendy Lamb Books
Format: Hardcover Edition (Borrowed)
Goodreads Summary:
Nell knows a secret about her perfect, beautiful sister Layla. If she tells, it could blow their world apart.
When Nell and Layla were little, Nell used to call them Nellayla. Because to Nell, there was no difference between where she started and her adored big sister ended. They're a unit; divorce made them rely on each other early on, so when one pulls away, what is the other to do? But now, Nell's a freshman in high school and Layla is changing, secretive. And then Nell discovers why. Layla is involved with one of their teachers. And even though Nell tries to support Layla, to understand that she's happy and in love, Nell struggles with her true feelings: it's wrong, and she must do something about it.
"I wanted to twinkle underwater like the lights of the city."
This was one of mine and even Buzzfeed's most anticipated books of 2014. When I found it at the library a few weeks after it was published on May 27, I ran straight for it and grabbed it with my all-mighty strength. (LOL, yeah right.)
After reading, I'm very glad that I've decided to read it. It was a novel of change, change from all of the mainstream books that are out there. This was a very well-written book. It's not the type that you'll want to re-read (at least I don't think so) but it's a pretty fun read that's sure to get you enticed in reading more from this splendid author.
I just wanted to let you know that this isn't your average fluffy contemporary read. We Are the Goldens is more of a darker contemporary read. In some ways, it has the aspects of those that deal with abuse and rape (especially because how the characters were feeling at times, *cough*Layla*cough.* We usually never get those type of books in the stores.
The concept of this book was very well planned out. The author made the characters deal with very harsh problems that really affected them. A very naughty teacher, signs of depression, obsession, this book was full of everything.
Second-person narratives aren't my favourite. I wasn't really glad that this book was written that way, Nell speaking to Layla through diary entries/letters/whatever it was, but we all have our favourite ways of books being written. With that said, the plot was kind of dull as well at times.
I don't know. Did some people think that this book was a roller coaster? Because for me, it wasn't.
For some people, I could see why they gave it a 5 star rating or a 4.5 one. This book stood out for some people because they have different tastes in drama contemporaries. For this book, it basically matters on what you like the whole time. The story was written extremely well, yes, but the plot at times didn't seem to get anywhere. There were no plot twists until the end and I found that this was dragging to much onto Nell's side when her sister is the main story here. The romance between Nell and Felix in the end just shouldn't have been added. We all know that we liked them JUST as friends! What was this, "Friends With Benefits?"
My utterly most favourite thing about this book was the relationships and friendships. The author absolutely made this the most BRILLIANT part of the book. She just mastered an A+ in friendship here.
The way Nell looked up to Layla really shows the truth behind the way most little siblings look up to the oldest ones. I'm the oldest sibling, and this book really gave us an idea from the minds of the youngsters.
I liked Nell, a lot. She was very independent and smart. In fact, she was more wiser and smarter than her bitch of a sister, let me tell you that. I'm not going to begin ranting on why I hate Layla, but by the end of the book, you'll realize that she was a s*ut and just went in the way of everything and messed everything up for everyone. She really showed that life isn't fair.
The parent-child relationships in this book was wonderful. For once, we had a wrecked-but-beautiful family over here, which rarely occurs in books. In a lot of novels, when the protagonist is going through something, the parent isn't even spoken of!
Overall, this book had its flaws and imperfections and all, but it was worth it to read without any doubts. If you liked anything by Carol Lynch Williams, then this will be a much-lighter breeze for you.