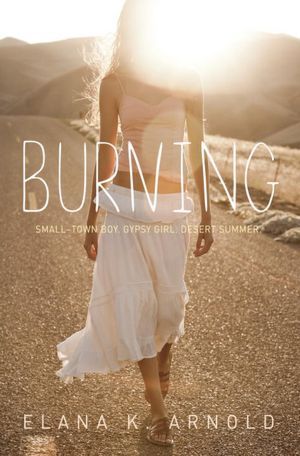 Burning,
by Elana K. Arnold
Genre: Young Adult Fiction, Contemporary, Romance, Chick-lit
Rating: 4.5/5 stars
Publication: June 11, 2013, by Delacorte Press
Format: Hardcover Edition (Borrowed)
Goodreads Summary:
Ben: Having just graduated from high school, Ben is set to leave Gypsum, Nevada. It's good timing since the gypsum mine that is the lifeblood of the area is closing, shutting the whole town down with it. Ben is lucky: he's headed to San Diego, where he's got a track scholarship at the University of California. But his best friends, Pete and Hog Boy, don't have college to look forward to, so to make them happy, Ben goes with them to check out the hot chick parked on the side of Highway 447.
Lala: She and her Gypsy family earn money by telling fortunes. Some customers choose Tarot cards; others have their palms read. The thousands of people attending the nearby Burning Man festival spend lots of cash--especially as Lala gives uncanny readings. But lately Lala's been questioning whether there might be more to life than her upcoming arranged marriage. And the day she reads Ben's cards is the day that everything changes for her. . . and for him.
Burning is a true summer-love romance. From the moment I picked the book, I knew that it would be the perfect summer read. Just look at the cover!
I've never read a gypsy book before. Elana K. Arnold has definitely introduced something completely new to me. A gypsy girl. A small-town boy. Star-crossed lovers. A beautiful romance. An amazing, thrilling summer. That's basically what the plot is all about, summed up in 5 short statements.
Lala and her Gypsy family come to Nevada for the summer to continue telling fortunes and making a living. She has an arranged marriage to a man that she never and never will love, and all she wants is change, and to get the get the heck out of her family's hands. When she meets small-town boy Ben, who's spending his last summer before university in his home that he's known all his life, everything suddenly changes. They both fall in love, despite their different ways of life, and have to make sacrifices to make everything work. Is it just a fling?
It's not. The romance between Lala and Ben wasn't a fling, it was something far more special and beautiful. They were in love, and love doesn't come that easily. Bala (my ship name for them) had such a strong romance that hardly anyone's can compare to. From a matter of weeks, they learnt to understand each other completely despite everything that's going on with their families. The relationship they had was not only a romance, but a complete understanding and friendship. They didn't love each other just for the excitement and hunger, they loved each other because of love. You'd think that you cannot understand this type of relationship because of the matter that it is put in, but it's so easy to. Their love gave me the feels. *dreams*
The concept of this book was fresh, unique, and summery. If you're looking for something related to Sarah Dessen's books, then this book is for you. Elana K. Arnold has created the next Sarah Dessen-related book. I keep thinking "Don't Stop Believin" about this story. "Just a small town girl, livin' in a lonely world..." But in ways, it's kind of the opposite. Ben is the small-town boy, and Lala comes from the ways of the city. They're not supposed to be together, but fate helped them along the way.
When beginning this book, I had mixed expectations of what it could become. A possible 3.5 star rated book because of its cheesiness and predictability was my biggest guess. And from the beginning, that's where the book took off to be. The beginning was very narrow-sided and not strong and captivating. Until 100 pages, I was getting bored. And also, there was insta-love. *pukes* They basically fell in love at first sight, and that's unreal, in my opinion. But put that aside, and you have an amazing novel. From there, the plot took off. It became so captivating, and my squealing feels went out of control. When predicting the ending, I had a whole other idea of what was to come.
In ways, the book was a masterpiece. But what I really liked about it was that it wasn't perfect. Imperfection is a strong thing, and it helps us realize that the story was more real than anything. This sounds very much like a true story, and I'd believe it if someone'd just tell me it verbally.
I really had a total love relationship with the characters, especially because of their imperfection. Ben was a total heartthrob, and I can see him being in every YA romance story and totally making it awesome. Ugh, I just loved him too much, and it's very difficult to explain my feels in his case. :) But all I can say is that he made my heart skip a beat.
Lala was just a total fun and witty female protagonist. She was a rebel, and sick and tired of the Gypsy ways. All she wanted was to be free and to have a new chance at life because her arranged marriage and tradition would just ruin everything. We usually don't get protagonists like that, willing to do anything to have change.
Of course, I loved the whole Gypsy aspect of the book, and I can tell that the subject means a lot to the author because she wrote about everything with such understanding passion. It was so unique to learn about that, and it was another of my favourite things about this book!
The last thing that I wanted to mention was the
ending. EHMAGERD.
I don't know how to put this into words, but it
SHOCKED ME.
I don't want to spoil anything on here, so what I'll do is make you highlight it if you want to see the spoiler. *grins*
WHY WOULD LALA NOT WANT TO BE WITH BEN? LIKE SHE WANTED HIM AND HER TO BE TOGETHER ALL ALONG, AND NOW THEIR RELATIONSHIP IS BASICALLY DONE, all because she wants to be on her ow. Meh. It hurts me as well. And imagine how devastated Ben must be.
Overall, this book was amazing. I recommend it to any chick-lit lover, young or old. The romance is strong and beautiful, and so are the relatable real characters.
Go for it.