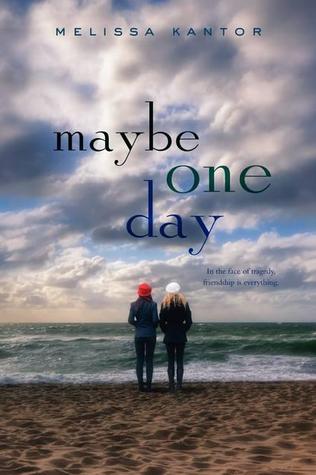 Maybe One Day,
by Melissa Kantor
Genre: Young Adult Fiction, Contemporary, Romance, Tragedy/Death
Rating: 4.5/5 stars
Publication: February 18, 2014, by HarperTeen
Format: Hardcover Edition (borrowed)
Goodreads Summary:
Critically acclaimed author Melissa Kantor masterfully captures the joy of friendship, the agony of loss, and the unique experience of being a teenager in this poignant new novel about a girl grappling with her best friend's life-threatening illness.
Zoe and her best friend, Olivia, have always had big plans for the future, none of which included Olivia getting sick. Still, Zoe is determined to put on a brave face and be positive for her friend.
Even when she isn't sure what to say.
Even when Olivia misses months of school.
Even when Zoe starts falling for Calvin, Olivia's crush.
The one thing that keeps Zoe moving forward is knowing that Olivia will beat this, and everything will go back to the way it was before. It has to. Because the alternative is too terrifying for her to even imagine.
In this incandescent page-turner, which follows in the tradition of The Fault in Our Stars, Melissa Kantor artfully explores the idea that the worst thing to happen to you might not be something that is actually happening to you. Raw, irreverent, and honest, Zoe's unforgettable voice and story will stay with readers long after the last page is turned.
"Cancer. How could my friend have cancer? Cancer killed people. But Olivia wasn't going to die. We were sixteen. People who are sixteen, people you've known your whole life, don't die of cancer. Why not? asked an ugly, scary voice in my brain. Why don't they die of cancer? "Because," I said out loud, the sound of my voice startling in the quiet room. "They don't."
MAJOR SPOILERS AHEAD. Cancer stories are my favourite contemporary reads. They make me cry, inspire me, and crack my heart every single time. That's not the only positives of them--there's many more. Melissa Kantor has absolutely created a gorgeous petrifying read about loss and friendship, and both of those mixing together.
The Darlings series by Melissa didn't really please me. It compared too much to Joanna Philbin's Daughters trilogy, and I didn't see the main idea very well. But when this was released, it got critically acclaimed very quickly and most reviewers were saying that this is the best book of 2014. And it really is.
In order to read this book, you need to have a good amount of patience. If you don't, well then you'll be crying every minute. You need to have patience with the author and protagonist because nothing will happen quickly. These types of stories are slow-paced, and that's the way they're meant to be. You can't be expecting a fast-paced roller coaster with plot twists every two pages. These stories need to build and build up to become something heart-pounding and scary at the same time.
This book is about two dancers slash best friends, Olivia and Zoe. They have been friends for over a decade, and there's no signs of slowing down. When they get kicked out of their studio, they're both devastated but Olivia moves on faster. They both have big plans for their futures involving each other, and when Olivia gets sick with leukaemia, that all changes. She begins to miss months of school because of chemo-therapy, and Zoe slowly begins to break without her best friend by her side. Then Zoe begins to fall for Olivia's crush, Calvin. Zoe keeps on telling herself that Olivia will make it through this, and everything will slowly go back to normal. But the alternative ending is still haunting her all the time.
I was broken after reading this book. I cried like crazy and I felt so broken like I was Zoe.
This is a very sad but happy book at the same time. Zoe's voice makes everything seem like it's okay and her and Olivia's friendship will always be there. The bond that they have was so unbreakable and so beautiful and I'm absolutely jealous. Olivia and Zoe had one of the most powerful friendships that I've ever read about. Together, their voices made the bookish world a better place.
This book was amazing. The plot was very real and beautiful. The beginning was the only flaw. Everything wasn't sorted out correctly and it fell apart, but the middle and the struggles that the characters had built everything back up and made up for the struggle that the plot had in the beginning. It got stronger by every page, and by the end, my heart was racing and I was unable to leave the book's pages.
Zoe's voice stuck with me, and is still stuck with me to this day. I received an unforgettable book hangover, and I felt like I was in their world for a long time. Zoe's voice makes you feel like you're living the pain and struggle that the characters were going through, and it's so difficult to pretend like you never read this book. I was seriously broken because of the not-knowing-part. Not knowing how Zoe moved on, and how her life came to be in the end without Olivia. I can't stand to think Zoe without Olivia. It's like one shoe without the other. It just doesn't fit.
So as you can see, the characters formed a very relatable relationship with me. I learned to love them. Zoe was such a strong person, much stronger than I would ever be. She was depressed and tiring out before the end of the book, but she stayed strong and stayed with her best friend until she left her for the angels. She didn't show her hurting and it was all stuck inside her, slowly falling apart.
Olivia was an angel. She was beautiful, and she was amazing and such an inspiration, although she is fictional. I can tell that many people could look up to her and her passion and strength. She knew her time was coming, but she lived her live according to the amount of time she had left, and didn't think about it, although the people around her were slowly hurting inside. I loved her and you will, too.
The romance wasn't needed in this book. I disliked Calvin, and Zoe certainly deserved better. This type of book written by this author didn't need that, but it didn't bother me too much that it was there.
The ending was predictable, but I loved it. This book was amazing and is recommended to lovers of TFIOS and anything contemporary with a twist. You'll love this one.