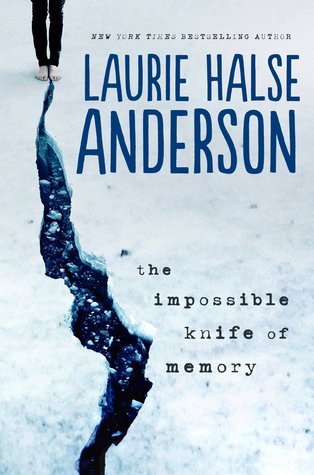 The Impossible Knife of Memory,
by Laurie Halse Anderson
Genre: Young Adult Fiction, Contemporary, Romance
Rating: 5/5 stars (A GAZILLION STARS)
Publication: January 7, 2014, by Viking Juvenile
Format: Hardcover Edition (borrowed, sadly)
Goodreads Summary:
For the past five years, Hayley Kincain and her father, Andy, have been on the road, never staying long in one place as he struggles to escape the demons that have tortured him since his return from Iraq. Now they are back in the town where he grew up so Hayley can attend school. Perhaps, for the first time, Hayley can have a normal life, put aside her own painful memories, even have a relationship with Finn, the hot guy who obviously likes her but is hiding secrets of his own.
Will being back home help Andy's PTSD, or will his terrible memories drag him to the edge of hell, and drugs push him over? The Impossible Knife of Memory is Laurie Halse Anderson at her finest: compelling, surprising, and impossible to put down.
"A quick lesson.
There are two kinds of people in this world:
1. zombies
2. freaks
Only two. Anyone who tells you different is lying. That
person is a lying zombie. Do not listen to zombies. Run for
your freaking life."
Need a little flavour in your life? Then pick this beauty up. It's not your average contemporary read, it's something darker with a gorgeous backstory. It deals with a variety of subjects, including PTSD. You will end up crying and not understanding what the freak is going on with you and your feelings.
Words can't even explain my love for this book. It was so powerful and gorgeous and addicting, and one hell of a roller coaster ride. You'll end up crying and not knowing what to do with yourself. Laurie Halse Anderson is my favourite author, no doubt about it. The way she portrays her protagonist's voice is beautiful.
"My earbuds were in, but I wasn't playing music. I needed to hear the world
but didn't want the world to know I was listening."
This is about Hayley Kincain. She's a teenager who lives with her single depressed father, Andy, who is going through a tough time in his life. He has PTSD, and is beginning to show signs that he is too immature for his age. He's Hayley's father, and he's supposed to be taking care of Hayley, instead of her taking care of him, right? They used to be traveling around the US in a truck, but now they're back in the town where he grew up so Hayley can attend a real high school. Hayley meets Finn, a guy who obviously likes her but is hiding some secrets of his own. Will Andy end up changing for the good?
From the start, I was in love with this book. The plot was fast-paced, and because of the issues incorporated, everything ended up being 100% awesome. Anderson just had a masterpiece idea, and did it.
From page 1, I loved Hayley. She and Melinda are Laurie's best characters yet, and Hayley's voice really stood out to me. At first, she didn't know what to do with herself and her life.
As her relationship with Finn grew, her personality grew, too. Her badassness went to a whole other level and she really learned more about herself and what she deserves. Her love and caring for Andy was beautiful, and right.
Although Andy overreacted at times and wasn't who he was supposed to be, I loved him. He didn't take the role of responsibility very well, but by the end, after the incident, he became a whole other person. He became stronger, and that was all because of his outstanding daughter who took a voice.
I saved Finn for last because well, I loved him.
HE WAS MY TEENAGE HEARTTHROB! Just look at this quote which he spoke to Hayley: (spoken in a texting conversation between him and Hayley after their date)
"nxt to you
i didnt notice any stars
night"
Oh gosh. *fans myself* It's so hot in here! Or is it just me?
The romance was just astonishing and it had a point. Some books just have romance for no reason, but the relationship between Hayley and Finn made sense and it made me squeal. I felt steam all the time and a gorgeous connection between them.
I never saw that ending coming. It surprised me, but it was amazing and made the book 10x better.
This book had everything that you're looking for in a perfect YA novel: romance, drama, mystery, feels, squeals, and issues. This gives you a variety of flavours, not only one in life.
Beautiful quotes:
"She dumped you," I said.
"Not yet." He put a box of food and soda at the edge of a plaid blanket.
"Maybe she had to pee," I said. "What's her name again?"
"Her name is Hayley." He straightened up and handed me the cup of marigolds. "Hello, Miss Blue." (p. 93)
"Then I'd see Finn in the hall, or I'd catch a glance of his profile out of the corner of my eye while we were driving to school, and he would turn to me and smile.
And I didn't want to be a hermit anymore." (p. 151)
"Until then we're going to keep making memories like this, moments when
we're the only two people in the whole world. And when we get scared or lonely
or confused, we'll pull out these memories and wrap them around us and they'll make us feel safe." He kissed me again. "And strong." (p. 391)