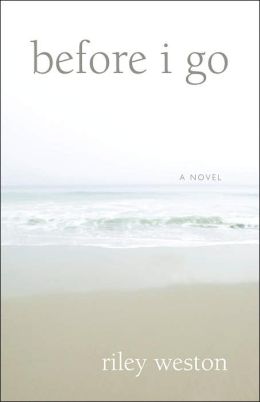 Rise and shine! Today's post features two bewildering novels that I just couldn't put down the minute I began reading them: Before I Go, by Riley Weston, and The Book Thief (now on DVD) by Markus Zusak. Both of these books were unbelievably fascinating, but they both had total different concepts that the authors focused on.
Before I Go was a contemporary life-changing romance. I never expected it to be this good because really, what can you expect about a girl that skates? I really thought that the "tragic accident" that occurred was something totally different.
So, here we have Madison Henry, who's sixteen and has always dreamt of becoming an Olympic figure skater. She is coached by her mother, Annie, who is the most supportive and helping mother that I've ever read about in a book. A tragedy strikes surprisingly, and Madison realizes that she can't skate anymore, and who knows for how long.
This really was a story about the bond of a mother and daughter, romance, and hope.
Please, please, please do not read this book without carrying a LARGE box of tissues with you. I cried so many times throughout reading this, and I finished it in one sitting. I remember some of my family members coming into my reading area, and I'd just push them away, wanting peace and quiet.
Madison was a courageous protagonist who had so much independence and confidence in her the whole time and I believed in her. Annie made me upset sometimes, but to me, it didn't really matter, as long as the main protagonist and of course, the love interest were amazing, was all that mattered. I'm not going to spoil anything about the love interest, Jack, but the truth is that he broke my heart, I loved him too much. This was one of my favourite novels of all time, and it will be for you too.
Next off, The Book Thief. I'm sure you've all heard of it. I never expected it to be that good and to focus on that kind of subject. World War II is a tough subject to write about, and every book that focuses on it just makes me cry in the end, and I was seriously bawling during the movie and book.
The details here are spectacular. Liesel, the cute main character, just made you feel like YOU were in this book and you were experiencing everything, even though that this was in Death's point of view and hers as well.
You will grow to love every moment and word of this book. You will fall in love with all of the characters. It's so sad to read this heartbreaking story with such strong characters that have to go through such horrible situations.
I personally enjoyed both the book and the movie so much. They are so alike, and the film crew did a fantastic job making the job relate to the book so much. If you haven't already, read this book because you won't be left down.
I've read many books that begin with the letter B, but these two mean so much to me and aren't that popular as the books of John Green and Suzanne Collins, for example. Not that they aren't good books. ;)