Hey everyone. I just read this book specifically for the "X" post, so I'm going to format and write this just like a regular review, because I just finished it. Here are my thoughts...
XVI (XVI #1),
by Julia Karr
Genre: Young Adult Fiction, Dystopian, Romance
Rating: 4/5 stars
Goodreads Summary:
Every girl gets one.
An XVI tattoo on the wrist--sixteen.
Some girls can't wait to be sixteen, to be legal. Nina is not one of them. Even though she has no choice in the matter, she knows that so long as her life continues as normal, everything will be okay.
Then, with one brutal strike, Nina's normal is shattered; and she discovers that nothing that she believed about her life is true. But there's one boy who can help--and he just may hold the key to her past.
But with the line between attraction and danger as thin as a whisper, one thing is for sure...
For Nina, turning sixteen promises to be anything but sweet.
I've always really wanted this book, but somehow I wanted it but had bad feelings about it. XVI was actually written brilliantly, and taken place in a wild dystopian society, where when girls turn 16, they are basically used and are sex slaves, in other words.
But before I say anything else, don't get that all "shocked-look" on your face, thinking I'm absolutely nuts for reading a book like this. It's actually more of a government-treated dystopian book, and everything is treated mildly, there's even no swearing.
It's 2150, and Nina is afraid to turn sixteen. It's everything everyone's been talking about since the government announced the rule thirty-three years ago. Girls have been treated unfairly since then, while many have loved it. The XVI tattoo that everyone receives is the trademark- it's how everyone knows that you are illegible and legal. When a tragic accident strikes unexpectedly, Nina doesn't know what's right or wrong, and when she meets Sal, she can truly find the meaning of all of this.
I had some issues with this book, but let's begin with the positive facts first.
The world: I'm very pleased to say that Julia Karr created a brilliant world. The setting is perfect. 2150 means new technology, new ways of living, and through this book, you could tell that it really is 2150. In some books, the future is there, but there's no signs of it except from the protagonist mentioning it. Here you have robot cashiers, and people have stopped eating meat. The world has evolved, and we can all see it, wide and clear. But, don't think it's perfect. No way is it utopian.
The Romance: Sal and Nina had a very strong bond, and from the moment they met, I knew that they were meant to be together. Sal understands Nina, and he's the reason why she ended up the way she did in the end, and that was a good reason why. He didn't and never would use her the way other guys were, and I felt that he was her own personal bodyguard, keeping her safe and taking things slow and the way Nina wants it to.
The Plot: I was actually never bored with this book. Having it be a small book, I already knew that many things would occur, because it's what, 200 pages? But even in 200 pages, I felt that I read a 400 paged book. Same amount of action, romance and craziness, all-in-one. What more could've I asked for in this aspect? It was a huge roller coaster ride, from beginning to end.
Now, let's head onto the few negatives, but trust me, they won't be too bad.
The Concept: This was my main problem with this book, and this whole slavery concept was very brilliant, please, don't get me wrong, but I was confused with one thing- why? Why sixteen? Why tattoos? Why slavery? There's no reasonable explanation in this book, and I feel that I have to assume everything, make up my own "answer," and seriously, except suspenseful endings, who wants to create their own theories on these sort of things? I really liked the idea but what's the history behind it all? Hopefully we'll discover more in the sequel.
Nina: I had an issue with this chick. She was too emotionless and whiny, all at the same time! I felt as if she had mood swings. One minute, she's overly confident and thinks that she can get any guy with a snap,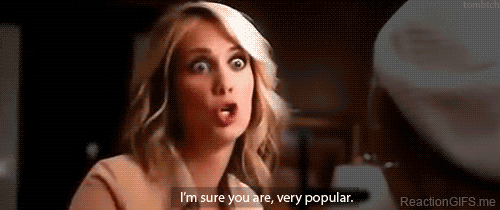 and the next, she's so moody and bipolar and acts like she wants to kill herself. WTF?! I don't like Nina at all as a protagonist. She think she's so smart and knows everything, but I don't see her as intelligent at all, even though she cared so much for Dee, her little step-sister.
Side Thoughts: Okay, the thing that happened with Sandy happened all too fast. One minute, we're saying goodbye to her because she's going to FLS or whatever its called, and the next, poof, bye bye. We lost her too fast! Oh and Sal, I like you. *raises eyebrows* End up with Wei, that would be a cute couple, now wouldn't it be?
Overall, XVI was a job well-done. I liked it, and despite the negative reviews, I think that many more individuals will enjoy it as well.