Okay. Sully's scary and all (ahah yeah right) but the real monster here in Patrick Ness's
A Monster Calls
is something bigger, and his story is something much
deeper.
Conor is a young boy who's getting nightmares about a monster. But this isn't any usual monster that kids dream about and are featured in their usual nightmares,
this monster is real,
and appears to Conor one night when Conor wakes up at midnight. This monster tells deep tales and demands the "truth." But really,
WHAT IS THE TRUTH?
Conor has a mother at the brink of death, a father who rarely visits, a grandma who doesn't have much of a connection with Conor and a school that misunderstands him. So why in the world would a monster demand for the truth to such a miserable, disconnected life?
If an author is writing a middle grade novel featured towards young adults and adults, you might thing that it's going to suck and is hard to accomplish. But, Patrick Ness just wrote this so beautifully, intriguing, emotionally deep. It's very hard to intrigue young adults with a book that has pictures, but the illustrations just blended in perfectly with the story, and you'll understand and see the reason why this was written with photos.
This isn't a very popular, "hyped up" book. It's special for its own reason, and I am very proud to have read such an amazing book that isn't known by everyone. But, I do definitely think that most people should read it, especially if they want a deep story that you have to read between the lines. It's not going to come to you like this,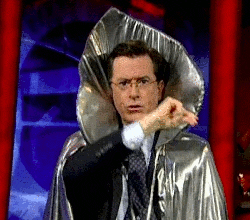 but you'll eventually get the concept and point of the book itself. The ending was very hard to deal with because YOU ARE GOING TO BE SITTING THERE FOR A COUPLE OF HOURS TRYING TO REALIZE/DEAL WITH WHAT HAPPENED.
In a way, this book made me very sad. I felt so bad for little Conor. Although he was lost in his own little words sometimes, he was there, and more there than anyone else in this fictional world. The monster was his only friend, and the only person who helped him realize the true meaning of living, and what it provides for us. Conor was clear-minded, and showed so much potential and just kick-butted the rest of the world, even though some people/protagonists would've dealt with his situation a whole another way. He saw where he was going, and passed the line.
The thing the monster had going on was so deep. The monster was kind of like life itself and Conor was the events happening, but you'll understand once you read the book. The monster by the end happened to be my favourite character, and I'll never forget about the monster that sat by a 13 year old's window, telling him three special tales and asking for truth in return.
So in the end, I sit here and wonder, "How can an author come up with such an amazing idea? How can he write a phenomenal book?". The final answer back is, Siobhan Dowd. Too bad she couldn't live and see what her idea inspired into.
I recommend this to everyone, and every reader of every genre.